With the growing popularity and appeal of wristwatches that can "go anywhere and do anything," the desire to pinpoint and categorize the ultimate sport watch, seems to be a trope we'll never escape. While other watches usually end up in this category, there's another type of watch that's becoming a more and more popular option for those interested in a sports watch: the pilot's watch.
Jump To
Commonly Asked Questions About Pilot Watches
What's difficult though is that the facets that come together to designate what a pilot watch is and what it isn't in the world of watchmaking are a bit difficult to pin down. Is it functionality that defines it? Or is it style? The reality is that some of the timepieces featured in our discussion below may be more appropriately classified as being comprised of aviation-inspired watch features as opposed to specific aviation watch "requirements."
The Best Pilot Watches
Casio F91W Alarm Chronograph
| | |
| --- | --- |
| Price Range: | $10 – $20 |
| Water Resistance: | 30m |
| Case Dimensions: | 38.2mm × 35.2mm × 8.5mm |
| Lug Width: | 18mm |
| Movement: | Casio Quartz |
This probably isn't where you expected us to start. But dig into the real-world use cases a bit and you'll find the trusty F91W in cockpits everywhere. It's got a chronograph, alarm function, clear display, and military time readout for those who want it. Plus, you can find them anywhere.
The last time I saw one of these in an aviation setting was on the wrist of a KC-135 tanker pilot. Sure, you won't see any trendy, aviation inspired ads featuring these. But I bet the Casio F91W manages to get the in-flight job done every time.
Casio G-Shock GW6900-1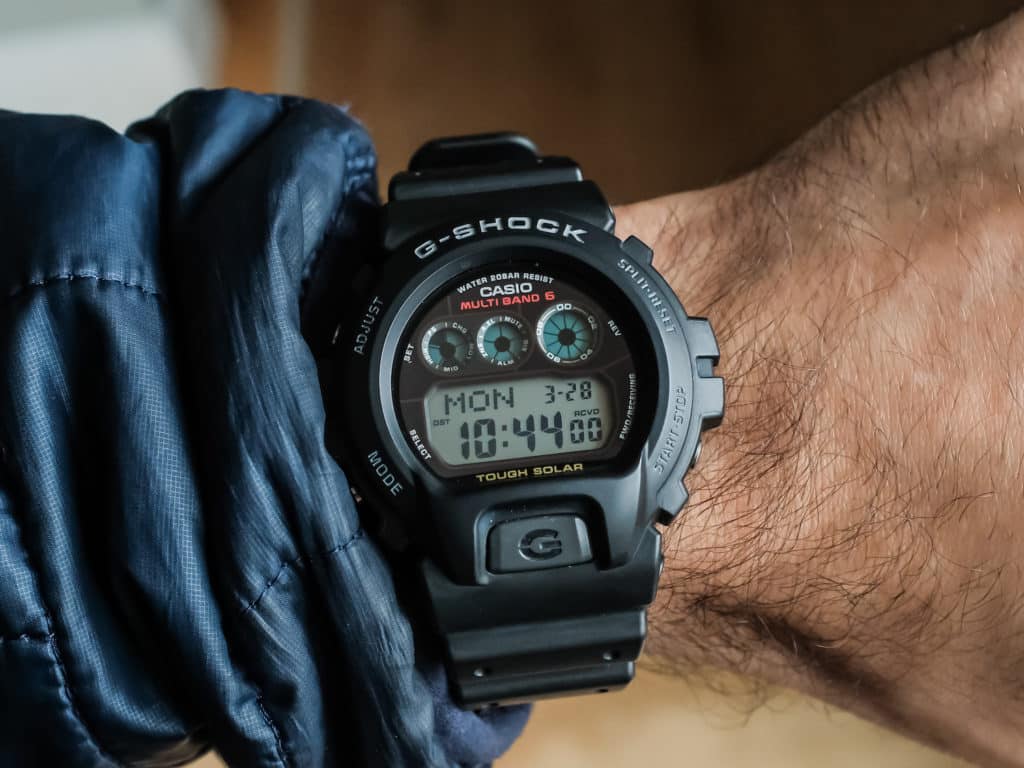 | | |
| --- | --- |
| Price Range: | $89 – $100 |
| Water Resistance: | 200m |
| Case Dimensions: | 53.2mm × 50mm × 17.7mm |
| Lug Width: | 26mm |
| Movement: | Casio Quartz |
If it feels like the F-91W is skimpy on features, another great option would be upgrading to Casio's G-Shock series (a landmark in the history of timekeeping). My favorite has to be the GW6900-1. The solar and Multi Band 6 features make it incredibly convenient and the dual-time display at the top-right corner has great legibility and is the easiest for me to read by far.
You'll never have to worry about bumping this around and it'll probably outlive you. Again, no fancy aviation marketing campaigns behind these but they're everywhere. At a full charge, the solar quartz movement has a power reserve of approximately 6 months. So as long as sunlight hits its for a bit at least every couple months, you won't have to worry about it running out of power.
San Martin Pilot Dial A
| | |
| --- | --- |
| Price Range: | $100 – $200 |
| Water Resistance: | 200m |
| Case Dimensions: | 39mm x 50mm x 12mm |
| Lug Width: | 20mm |
| Movement: | Ronda 715 |
For something with more of an analog look, things start to get interesting when you look at brands like San Martin. This flieger (German for aviator) design is something you'll see repeated by brands like Laco, Stowa, and IWC. If it's something you like, this is one of our favorite entry points if you don't have much to spare.
The dial is high-contrast and features incredible legibility and the stainless steel case construction is exactly what it's supposed to be – simple but effective. To me, I'd say the quartz movement is also a plus from the standpoint of accuracy and easy of ownership.
Want to learn more? Check out our full San Martin Pilot A review!
Seiko 5 SNK Series
| | |
| --- | --- |
| Price Range: | $100 – $150 |
| Water Resistance: | 30m |
| Case Dimensions: | 38mm x 43mm x 11mm |
| Lug Width: | 18mm |
| Movement: | Seiko 7S26 |
For those who have been with us since the beginning of the podcast, you'll know that this is where it all began for a lot of folks. The Seiko 5 line-up has undergone some serious changes in recent years but this pilot/field style watch will always hold a special place in our hearts. Like the San Martin, it blends design elements from flieger watches with a smaller package and a different dial featuring Arabic numerals in both a 12 hour scale as well as a 60-minute track.
It's also our first mechanical option on this list and the Seiko 7S26 is about as workhorse as it gets when it comes to a long-lasting Japanese movement. The other plus side is that these Seiko 5 SNK models tend to be strap monsters. So whether you put it on a NATO or a leather strap, it'll look perfect.
Citizen Eco-Drive Avion
| | |
| --- | --- |
| Price Range: | $150 |
| Water Resistance: | 100m |
| Case Dimensions: | 45mm x 52mm x 12mm |
| Lug Width: | 22mm |
| Movement: | Citizen Eco-Drive |
Sometimes, pilot watches can be big. And so no list would be complete without a few chonkers like the Citizen Avion. Featuring a leather strap, it's yet another take on the flieger watch, but this time with numbered scales for minutes along with 12- and 24-hour readouts. Once you're used to it, it should be virtually impossible to read the time wrong.
I also can't tell what it is about Citizen but pilots seem to seriously love them. My guess is that it might have something to do with their powerful Blue Angels marketing that has endured through multiple generations of pilots by this time.
Check out our hands-on review of the Citizen Avion!
G-Shock Gravitymaster Series
Price Range:
$150 – $550
Water Resistance:
200m
Case Dimensions:

GR-B200

: 54.1mm x 63mm x 18.3mm


GR-B100

: 53.8mm x 62.5mm x 17.3mm
Lug Width:
24mm
Movement:
G-Shock Module 5635 (GR-B200) or Module 5536 (GR-B100)
If there's one thing you can always count on G-Shock for, it's packing as much functionality, value, and reliability into their timepieces as humanly possible – that's why the G-Shock Gravitymaster series is worth consideration if you're looking for a pilot watch. Featuring a no-nonsense, purposeful and rugged design, the Gravitymaster series offers way more features than I can possible share here. But the pilot watch specific highlights are:
Altimeter
Graph indicator of altitude differential
Flight Data logging (up to 14 records)
Barometer
Atmospheric pressure tendency graph
Digital compass
and much, much more
The GR-B100 was the previous model while the latest model is the GR-B200, there is a price difference between the two as well as some design differences. But both options are fantastic options for those who would actually benefit from the pilot watch functions included in the timepiece (or those who would just like something cool on their wrist).
Citizen Eco-Drive Nighthawk
| | |
| --- | --- |
| Price Range: | $200 – $500 |
| Water Resistance: | 200m |
| Case Dimensions: | 42mm x 46mm x 12.5mm |
| Lug Width: | 22mm |
| Movement: | Citizen Eco-Drive |
Few watches have as iconic a pilot watch design as the Citizen Nighthawk – blending both subtle aesthetics as well as a form-follows-function design impetus, the Nighthawk is a classic choice for anyone interesting in a pilot watch. The dial is clearly designed to evoke aviation instruments you'd normally see in a cockpit.
But it's not all just looks – they dial is actually incredibly functional. It includes both a GMT function to track a second time zone (usually UTC) as well as slide Rule bezel that can allow you to calculate:
Navigation Distances (time between distances)
Speed / Ground Speed Calculation
Flying Navigation (measured distance between two points
Fuel Consumption
Maximum Flying Hours
AVI-8 Hawker Harrier (Dual Retrograde Chronograph)
| | |
| --- | --- |
| Price Range: | $180 – $290 |
| Water Resistance: | 50m |
| Case Dimensions: | 44mm x 52.5mm x 13.5mm |
| Lug Width: | 22mm |
| Movement: | Japanese Quartz Chronograph |
AVI-8 is a modern watch brand that fills an interesting space in the microbrand world. Their entire line is dedicated to honoring pilot watch designs and the history behind aviation. But rather than riff on designs that already exist, AVI-8 often pulls aesthetics and design language from the aircrafts themselves. Whether that's taking inspiration from dials and instruments in the cockpit or inspiration from the actual structure of the plane, AVI-8 has a solid hold on their brand's design ethos.
Of particular note for this list is the Hawker Harrier from AVI-8. This design was inspired by the RAF Hawker Harrier aircraft, which gives the timepiece a very concept-watch design with a hard lean towards aviation aesthetics while also ensuring the look doesn't feel "gimmicky." This makes the AVI-8 Hawker Harrier a great pilot chronograph for anyone looking for a timepiece with a bit more modern flare as well as a nod to aviation history. The only potential downside here of this chrono would be the size. At 44mm in diameter and 52.5mm lug to lug, it will wear a bit larger if your wrist size is under 7 inches.
Bulova Lunar Pilot Chronograph
| | |
| --- | --- |
| Price Range: | $350 – $650 |
| Water Resistance: | 50m |
| Case Dimensions: | 45mm x 52mm x 13.5mm |
| Lug Width: | 20mm |
| Movement: | Bulova 262 Khz (high performance quartz movement) |
Quite possibly the single most accurate timepiece on this list, the Bulova Lunar Pilot features the 262 Khz in-house quartz movement from Bulova, which has an incredible time rating of -/+10 seconds per year. But in addition to what's under the hood, this modern Bulova pilot chronograph is a remake of the 1971 Bulova timepiece that American Astronaut Dave Scott wore on the iconic Apollo 15 mission, the 4th successful moon landing journey.
That's a level of pilot watch street cred which most other timepieces can't compete against. This Bulova chrono pays homage to that iconic timepiece's legacy. The Lunar Pilot also features a sapphire crystal, and while the watch does wear a bit larger with a stainless steel case measuring 45mm in diameter, it's still a beloved favorite of those who take the plunge and pick one up. There is also a newly released 43.5mm version for those who like the design but would prefer something under 45mm.
Be sure to check out our personal experience with the Bulova Lunar Pilot.
Seiko 5 GMT Series
| | |
| --- | --- |
| Price Range: | $400 – $500 |
| Water Resistance: | 100m |
| Case Dimensions: | 42.5mm x 46mm x 13.6mm |
| Lug Width: | 22mm |
| Movement: | Seiko 4R34 |
For a while there between 2016 and 2020, it seemed like the watch world was under the impression that the Seiko 5 line was done evolving. But then the Seiko SKX was retired and reimaged in the Seiko 5 line (as the Seiko 5KX). But that was just the first big change. After that in 2022, the first ever Seiko in-house automatic movement GMT was released under the Seiko 5 line – thus the Seiko 5 GMT series became one of the best options for budget conscious pilot watch enthusiasts looking to track a second time zone.
Sporting the classic SKX/5KX stainless steel case shape, the Seiko 5 GMT features the 4R34 caliber movement, which is a new technical innovation on the Seiko 4Rxx series, which includes the mechanical GMT hand. In addition to that, the rotating bezel here has been altered to feature a GMT, multi-time zone bezel insert. This initial Seiko 5 GMT release included options for an orange, black, or blue dial.
For the total breakdown on this absolutely iconic moment in the Seiko 5 legacy, check out our full review!
Laco Aachen 42
| | |
| --- | --- |
| Price Range: | $400 – $500 |
| Water Resistance: | 50m |
| Case Dimensions: | 42mm x 50mm x 11.75mm |
| Lug Width: | 20mm |
| Movement: | Miyota 821A |
Laco is one of the few watch brands in existence today that can claim the distinction of having shaped the modern pilot watch aesthetic. Founded in 1925 and based in Germany, many of the iconic flieger style watches today we associate with vintage military pilot watches were influenced by Laco.
The modern Laco Aachen 42 is a 42mm version of the World War 2 Type-B dial (or Baumuster B), which features a highly legible 0 – 60 minute track on the outer perimeter of the dial and an accompanying 1 – 12 hour track on the smaller concentric interior circle. This watch would be a great choice for someone in the market for a more minimalist pilot watch with strong aviation ties and an automatic movement.
You can check out our full review of the Laco Aachen 42 right here.
Marathon Pilot's Navigator
| | |
| --- | --- |
| Price Range: | $420 – $450 |
| Water Resistance: | 60m |
| Case Dimensions: | 41mm x 48mm x 13mm |
| Lug Width: | 20mm |
| Movement: | ETA F06 High Torque (Quartz) |
Marathon Watches made a name for themselves by supplying accurate and reliable timepieces to the Allied Forces in WWII. Based in Canada, the iconic military watch brand now supplies timepieces for the United States and Canadian Armed forces as a military contractor. In fact this Pilot's Navigator that we're highlighting was developed in partnership with the formerly known Kelly Air Force Base in 1986.
Composed of a highly impact resistant composite Fibreshell material, the case features a light and resin-like matte finish. Coupled with the black dial and white markers, this creates an incredibly legible dial. This is especially true with the inclusion of tritium tubes, which provide very high luminesce without the need to absorb sunlight first in order to become phosphorescent.
The Marathon Pilot Navigator is ideal for someone in the market for something lightweight with more of a covert/under the radar look from the predominantly dark and black tonalities. Plus, it's a great choice for someone who is interested in purchasing a pilot's watch from a brand with active military contracts to supply timepieces.
CWC Mellor 72
| | |
| --- | --- |
| Price Range: | $450 – $550 |
| Water Resistance: | 50m |
| Case Dimensions: | 38mm x 42mm x 11mm |
| Lug Width: | 18.5mm |
| Movement: | Sellita SW210 (Mechanical) |
For British military watches, it's hard to get more authentic than CWC. The iconic brand was created in the 1970s in order to fulfill British MOD contracts to supply the armed forces with timepieces. One such timepiece was this reissued Mellor 72.
First issued in 1972 to the British Army, Navy, and Airforce, Mellow features a vintage-inspired tonneau case with pronounced lugs. A highly legible dial along with classic sword hands fully embodies that vintage aesthetic that CWC captures so well.
Bulova A15 Pilot (96A245)
| | |
| --- | --- |
| Price Range: | $550 – $700 |
| Water Resistance: | 30m |
| Case Dimensions: | 42mm x 47mm x 14mm |
| Lug Width: | 20mm |
| Movement: | Miyota 8S26 (Automatic) |
In 1944 the United States military ordered a test batch of approx. 500 timepieces from Bulova to test out a more user friendly way of measuring elapsed time for pilots. The experiment ultimately never went anywhere and no other timepieces were ordered. Nearly 80 years later, Bulova re-released this A15 Pilot watch to pay tribute to that experimental timepiece.
This is the perfect pilot watch for anyone who wants something with some historical rigor and chops but also something with a bit more personality. The dial features a standard minute/hour track, but in addition to that there is a 24 hour military time scale as well as the outer most, interior rotating bezel scale which helps to track elapsed time. The interior rotating bezel is controlled by the crown at 2 o'clock.
Steinhart Ocean 39 GMT
| | |
| --- | --- |
| Price Range: | $550 – $700 |
| Water Resistance: | 300m |
| Case Dimensions: | 39mm x 47mm x 13mm |
| Lug Width: | 20mm |
| Movement: | ETA 2893-2 or Sellita SW330 |
German-based watch brand Steinhart watches was founded in 2001 and has become one of the underground darlings in the world of high quality, affordable iconic design inspired timepieces. Few watches have solidified that place more for Steinhart than their Ocean 39 GMT. Featuring either a Sellita or ETA automatic GMT movement, the Ocean 39 GMT presents a ton of value for those who are looking for a pilot watch inspired by the golden age of jet setting (without having to pay Rolex prices of 5 or 6 figures).
There are Ocean 39 GMT options in various colorways with super-luminova. You can even choose from either a ceramic or aluminum bezel options. Fit and finish is also generally top-notch with Steinhart (the brand uses Swiss parts and assembles them in their headquarters in Germany), which is what sets them far apart from other brands that offer designs of iconic watches.
For a full perspective on the Ocean 39 GMT, check out our full review!
Gavox Avidiver
| | |
| --- | --- |
| Price Range: | $650 – $700 |
| Water Resistance: | 200m |
| Case Dimensions: | 43mm x 50.8mm x 12.8mm |
| Lug Width: | 22mm |
| Movement: | Miyota 9015 (Automatic) |
Belgium-based Gavox Watches is a love letter to all things horologically beloved by brand owner Michael Happe. The Avidiver is the microbrand's flagship model. Featuring flieger style hands and an interior rotating bezel that doubles as a diving bezel and a GMT, the Avidiver is designed as a diver and a pilot watch.
The Avidiver is a great pilot watch option for those who are looking for something with a bit more of a modern twist as well as the unique benefit of being an extremely unique but accessible design. Be sure to check out our full review of the Avidiver!
Commonly Asked Questions About Pilot Watches
What is the purpose of a pilot watch?
There are multiple purposes of a pilot watch. For the most part time-telling is a key feature and is the reason why most pilot watches tend to feature highly legible dials. Outside of basic timekeeping, a pilot watch can help the wearer calculate travel distances, syncronize their local time to UTC, determine travel speeds, and some of the highly sophisticated digital watches can even help the wearer log their flight data.
What are the most popular brands for pilot watches?
For budget options brands like Hamilton, Seiko, Citizen, Laco, and Steinhart are all very respectable options (especially for someone's first pilot watch). For higher budgets Bell & Ross, Bremont, Oris, IWC, Rolex (GMT-Master II), Longines, Cartier (Santos-Dumont) and Zenith are all very highly respected pilot watch makers.
How much does a pilot watch cost?
The range can be $10 – $15,000 due to how varied and multifaceted pilot watches can be. But most affordable (but high quality) pilot watches will generally fall under $1000.
Why do pilot watches have rotating bezels?
Depending on the design of the watch, a rotating bezel can either help the wearer track a second time zone, perform calculations (like fuel consumption, travel speed, distance traveled), and/or simply help them track elapsed time.

Michael Peñate is an American writer, photographer, and podcaster based in Seattle, Washington. His work typically focuses on the passage of time and the tools we use to connect with that very journey. From aviation to music and travel, his interests span a multitude of disciplines that often intersect with the world of watches – and the obsessive culture behind collecting them.