Watch enthusiasts are a passionate and sometimes picky bunch. We have boxes filled with mass market watches, but sometimes we want something a little more niche than what the bigger brands are producing. Thanks to the rapidly expanding market of microbrands offering direct-to-consumer timepieces, finding a unique watch has never been easier.
Jump To:
Common Questions About Microbrands?
What is a microbrand and how are they different from other brands in the watch industry? Microbrands are small, independent brands that specialize in limited production. Without the resources to produce in-house movements, they are usually powered by reliable third party movements. What they lack in name recognition, microbrands make up for in value and distinct brand DNA. Tired of Seiko and Rolex? Find inspiration for your next one-of-a-kind purchase on this list of the best microbrand watches.
Lorier Watches
| | |
| --- | --- |
| Location: | New York City |
| Popular Models | Falcon, Neptune, Gemini |
| Design Style | Vintage Inspired |
| Price Range: | $499 – $799 |
Started by husband-and-wife duo Lorenzo and Lauren Ortega, Lorier aims to create purpose-driven watches designed to be worn. Drawing inspiration from the past, they've curated an eclectic catalog of high-quality sport, dress and all-rounder watches with classic proportions and plenty of vintage charm.
In a word, Lorier watches are thoughtful. Each element, from the lines on the cases to the positioning of lug holes, is made with intention. Nothing exemplifies this better than Lorier's unwavering commitment to Hesalite crystals. Unlike the ubiquitous and hardy sapphire crystals found on most watches, Hesalite is prone to (easily buffed out) scratches. But hey, scratches tell a story, and add to the vintage-esque charm. I dig it. And, considering how often their watches are out of stock, I'm not the only one.
Zelos
| | |
| --- | --- |
| Location: | Singapore |
| Popular Models | Hammerhead, Mako, Swordfish |
| Design Style | Unique, design forward often with a twist |
| Price Range: | $400 – $1000 |
Started in Singapore in 2014 by Elshan Tang, Zelos watches are not for the faint of heart. If you want a subtle watch, look elsewhere. If you want a fun sports watch with a funky dial, look no further!
Zelos has earned a well-deserved reputation for making stainless steel dive watches with bold personalities such as the 40mm Mako or the 44mm Hammerhead. But their ever-growing catalog includes a lot more than these enthusiast favorite dive watches. Check out their field watches, chronographs and even their (now sold out) tourbillon. Most Zelos watches are priced well under $1000 and offer impressive specs to compliment their unique designs.
Baltic Watches
| | |
| --- | --- |
| Location: | France |
| Popular Models | MR01, Aquascaphe, Bicompax |
| Design Style | Vintage inspired |
| Price Range: | $400 – $1700 |
You'll quickly notice a theme of vintage inspiration as you work through this list. With classic designs and wearable dimensions, there is a lot to love about vintage timepieces. But they are also finicky, fragile and not always suitable for daily wear.
Baltic, based in France, looks to combine the allure of vintage with modern reliability. It won't be a surprise to learn that many of their watches are powered by popular 9000 series Miyotas, aiding in their ability to deliver thin, comfort-forward watches. Baltic takes this one step further with the MR01, an automatic watch that's only 9.9mm thick (including a domed crystal). This impressive feat is accomplished by a micro-rotor, something you don't see everyday! It's thin, high-quality, and only $600. Consider me impressed, Baltic.
Christopher Ward
| | |
| --- | --- |
| Location: | Designed in the UK. Built in Switzerland. |
| Popular Models | Trident, The Twelve, Sealander |
| Design Style | Bold English Design |
| Price Range: | $675 – $4210 |
Christopher Ward is best known for their Trident line of dive watches. Competitively priced at around $1000, featuring their trademarked light-catcher case and powered by Selitta movements, they bring unbeatable style and value.
Recent releases from the brand have shown they are capable of producing much more than competitively priced dive watches. The Bel Canto shocked us all by showcasing a chiming mechanism at a price ($3795) once thought impossible for sonnerie, and The Twelve is pushing the envelope for what consumers can expect from a $1000 integrated bracelet design. With their booming success in recent years, there is some debate if Christopher Ward is still considered a microbrand, but this list wouldn't feel complete without this pioneer of unique design and direct to consumer sales.
Farer Watches
| | |
| --- | --- |
| Location: | London, United Kingdom |
| Popular Models | Lander IV GMT, Bradfield, 36mm Three Hand, Markham Worldtimer |
| Design Style | Halcyon era inspired |
| Price Range: | $890 – $2395 |
Farer, as in "explorer", is an independent British Watch Company that has been making bold watches since 2015. I remember participating in a March madness style bracket on the a watch forum last year. 32 microbrands went head to head. When the votes were counted, Farer came out on top.
Their AquaMatic dive watch line is a perfect example of what makes this brand so popular among enthusiasts. It has the finishing and specs you'd hope to see at this price point, and sets itself above the competition with their hallmark use of bright colors. Inspired by the halcyon era of watchmaking, Farer watches bring a satisfying visual jolt to every line of their extensive catalog.
Formex
| | |
| --- | --- |
| Location: | Biel-Bienne, Switzerland |
| Popular Models | Essence, FORMEX field, Reef GMT |
| Design Style | High-end sport |
| Price Range: | $875 – $2400 |
Most microbands are fairly young and were started in the last few years as part of the overall market trend. But Formex has been at this since 1999, and they've perfected a thing or two over the years.
To understand what makes Formex so special, look no further than the Essence. It's a refined, Chronometer certified sport watch with brag-worthy finishing, generous specs, and an adjustable clasp. In other words, it has everything watch lovers could ever think to ask for. But Formex didn't stop there, and added a case suspension system for enhanced comfort. Who does that?! Only a brand that knows how to win over a group that is historically hard to impress.
Ocean Crawler Watches
| | |
| --- | --- |
| Location: | Rochester, New York |
| Popular Models | Core Diver, Neptune Mythic, Fordite Champion Diver |
| Design Style | Automatic tool watches |
| Price Range: | $1000 – $1300 |
As someone that loves hefty dive watches, I appreciate when brands make an effort to ensure their generously sized watches are actually comfortable. Ocean Crawler, a New York Based brand specialized in nostalgic watches built for contemporary adventures, is one of those brands. The dual crown Great Lakes Diver, which features 1000 feet of water resistance, has a tip to tip measurement of only 40mm! Likewise, the 44mm Core Diver V4 is housed in an ergonomic cushion case and is water resistant up to 2000 feet!
Those aren't just numbers on a dial. Ocean Crawler puts their watches to the test. With quality control standards reminiscent of G-SHOCK, their "hammer test" submits watches to an impact equivalent to 6,000 G – 333 times stronger than the lethal force for humans.
Looking for something with pizazz? Their fordite dials offer some of the best value by any brand using these one-of-a-kind dials constructed from layered paint collected from Detroit assembly plants.
RZE Watches
| | |
| --- | --- |
| Location: | Singapore |
| Popular Models | Resolute, Endeavor, Fortitude |
| Design Style | Titanium Automatic Pilot/Tool Watches |
| Price Range: | $299 – $699 |
Newly established in 2020, RZE wasted no time in finding a niche. While some brands dabble in titanium watches, releasing lightweight versions of their most popular models, RZE took the bold step to exclusively use this awesome (but harder to manufacture and more expensive) material.
RZE has perfected the art of using case shapes to create styles that match purpose. Their field and dive watch make use of dramatic angles and hard edges, giving a fittingly rugged aesthetic. This attention to detail carries over to the jet turbine inspired bezel on the Fortitude, a pilot's watch unlike any I've seen before. RZE's founder, Travis Tan, is a pilot, which might explain his ability to hone in on the ideal, no nonsense, dial layout.
Raven Watches
| | |
| --- | --- |
| Location: | Overland Park, Kansas |
| Popular Models | Trekker, Airfield, Endeavor |
| Design Style | Contemporary Sport |
| Price Range: | $420 – $699 |
Raven watches is owned and operated by TBWS podcast alum Steve Laughli, who channels his passion for travel and adventure into watches built just for that.
Raven's three lines of purpose built watches are ready to meet all of your timekeeping and adventure needs. The Trekker, a midsized tool watch is a great all rounder. The Airfield, Raven's take on the pilot watch, comes in classic colorways and can also be customized with your choice of dial and hand colors! The Endeavor, a 500m diver, is currently in the prototype phase for its 2nd iteration. Be sure to keep an eye out for this release!
Dryden Watches
| | |
| --- | --- |
| Location: | Kansas City, Kansas |
| Popular Models | Heartlander, Pathfinder, Chrono Diver |
| Design Style | Modern Tool Watches |
| Price Range: | $279 – $450 |
The best microbrands are made for enthusiasts, by enthusiasts. I once talked Jerry Wang's, owner of Dryden watches, ear off at a local watch meet up. He enthusiastically answered all my questions about design and his thought process for deciding which movements will power which watches. He didn't try to sell me a watch, and even gave me a free blacklight. He was just a dude that loved watches and was happy to chat about his passion for them over a beer.
This passion is evident in each line of versatile sport watches Dryden makes. The Heartlander field watch is a perfect example of this. Details such as the reasonable dimensions and colorways with just the right amount of pop for a go-anywhere-do-anything choice are a combination only a true watch lover could dream up.
Halios
| | |
| --- | --- |
| Location: | Vancouver, Canada |
| Popular Models | Seaforth, Fairwind, Universa |
| Design Style | Modern vintage |
| Price Range: | $700 – $775 |
Founded in 2009 by enthusiast Jason Lim, Halios has found a unicorn balance of style and value. Their modestly sized, highly capable and thoughtfully designed watches have become a favorite among enthusiasts. We like them so much that Halios is struggling to keep up with demand!
I was blown away the first time I saw a Seaforth, a 41mm dive watch powered by an SW200 automatic movement, but was only given the opportunity to enter a lottery for purchase when I tried to buy one. The second series of their other popular models, the Fairwind and the Universa, are scheduled for release in late 2023. If a Halios would feel at home in your watchbox, may the odds be ever in your favor.
Nodus Watches
| | |
| --- | --- |
| Location: | Los Angeles, California |
| Popular Models | Avalon II, Sector Series, Retrospect III |
| Design Style | Modern vintage |
| Price Range: | $450 – $750 |
Nodus is another younger brand that quickly made a big impression among enthusiasts. I guess that's what happens when you churn out unique designs with impressive specs at fair prices.
A sucker for a cushion case diver, my personal favorite is the Avalon II, which houses the ever-popular Miyota 9015 automatic movement, and even comes in bronze. Nodus offers plenty of other options to scratch that tool watch itch with the Sector series- a collection that includes a GMT, a field watch, various dive watches, and even a pilot watch with a countdown bezel. The category of microbrands is synonymous with value, so it's not often I'm surprised by a low MSRP. However, I was certainly impressed to learn this entire collection is priced right around $500.
Brew Watches
| | |
| --- | --- |
| Location: | New York City |
| Popular Models | Metric, Retrograph, Method |
| Design Style | Retro-modern |
| Price Range: | $375 – $475 |
Jonathan Ferrer, Founder and Designer of Brew Watches, associates coffee breaks with the simple pleasures of life- time with friends, relaxation, and the opportunity to savor a moment. Taking his love for coffee to the next level and drawing inspiration from industrial espresso machines, he started Brew Watches to celebrate the coffee experience. His current catalog of meca-quartz chronographs combines funky dials and rectangular cases for an enjoyable, retro-inspired experience.
Purchasing a watch from a microbrand offers the opportunity to make a connection with a small company, often a single person, as is the case here. Priced at under $500 and unlike anything else on the market, it's easy to see why Brew has quickly become one of the most notable small brands out there.
Traska Watches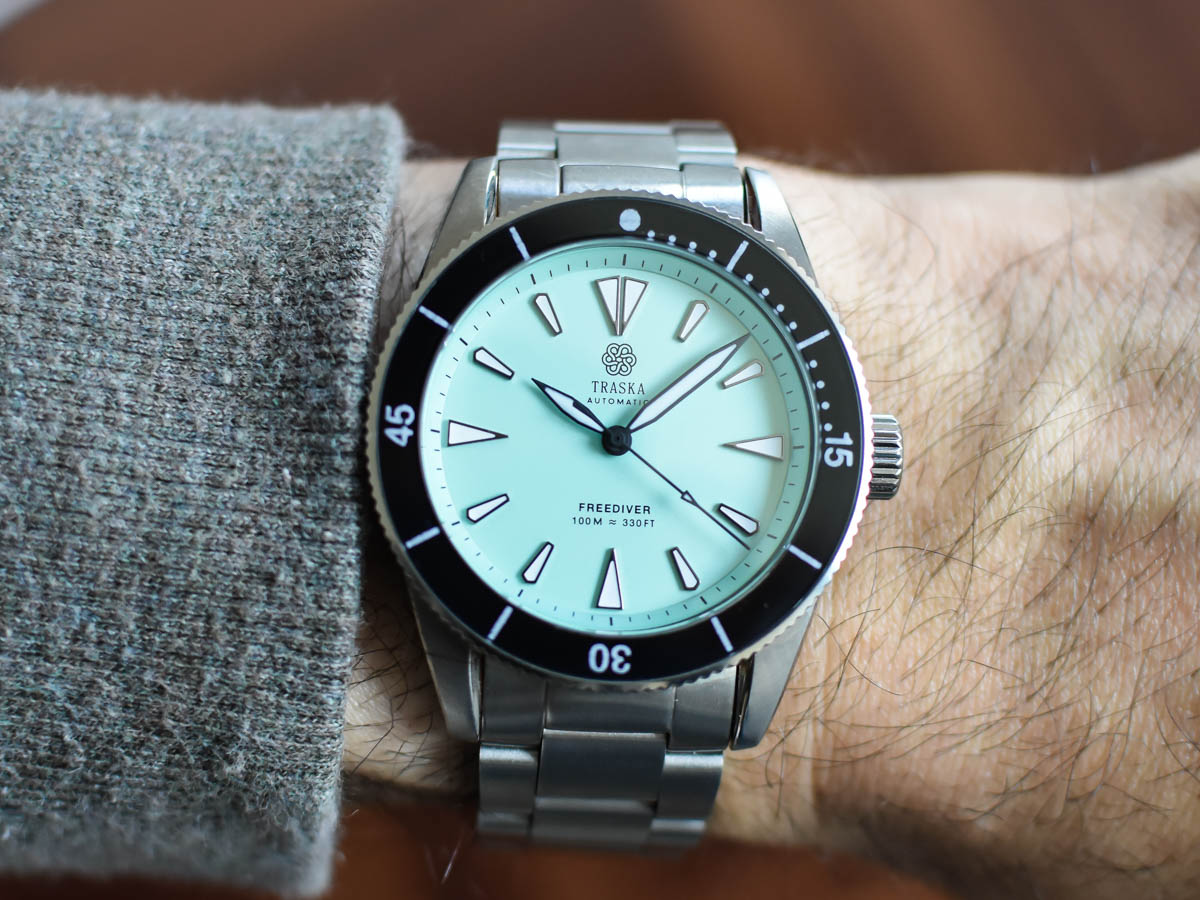 | | |
| --- | --- |
| Location: | Jacksonville Beach, FL |
| Popular Models | Freediver, Summiteer, Venturer |
| Design Style | Vintage inspired mechanical sport watches |
| Price Range: | $535 – $695 |
Traska is one of those brands that draws you in with looks, and then blows you away with specs. Each option from their five lines of highly capable sport watches features timeless design paired with robust build quality.
My personal favorite is the Seafarer, a clean, stainless steel dive watch paying homage to the dual crown watches of the past. All of their watches are powered by reliable Miyota movements and housed in proprietary scratch-resistant cases, so you can't go wrong with any model. Like many brands on this list, demand exceeds supply. Signing up for Traska's newsletter for up-to-date release information is the best way to get these at (a very reasonable) MSRP instead of paying inflated prices on the secondary market.
AnOrdain Watches
| | |
| --- | --- |
| Location: | Glasgow, Scotland |
| Popular Models | Model 1, Model 2 |
| Design Style | Contemporary |
| Price Range: | $1500 – $2000 |
AnOrdain's website does a wonderful job of summarizing exactly why they have our attention: "We create mechanical watches with enamel dials in Glasgow, Scotland." Enough said. They had me at enamel dial. Made in Scotland and powered by Swiss movements? That's just icing on the cake!
Their Model 1 comes in 12 colors and 3 sizes, with each dial as elegant and rich as the last. The Model 2 is a more rugged iteration, a field watch built for adventure, but still showcasing a show-stealing dial. Curious how these masterpieces are created? Head over to their website to learn how their team of enamellers create these hand-crafted, mesmerizing fumé enamel dials. The dials may be the star of the show, but the heat tempered steel hands and refined cases are not to be ignored.
Astor & Banks
| | |
| --- | --- |
| Location: | Chicago, IL |
| Popular Models | Fortitude, Sea Ranger |
| Design Style | Military heritage |
| Price Range: | $650 – $850 |
Chicago based Astor and Banks have been turning heads with their high-quality, mid-priced take on the field watch and dive watch. Taking a look at their catalog, it's easy to see what all the fuss is about!
It's hard to make a field watch with distinctive styling. After all, there are only so many combinations available when legibility and simplicity are the goal. Astor and Banks rose to the challenge with the Fortitude. This moderately sized, versatile automatic sport watch comes in a variety of dial options with a handset that fittingly complements each. The printed text on the dial pairs beautifully with the applied indices, resulting in a rugged yet refined aesthetic appropriate for any setting, formal to casual. The Sea Ranger, their take on the dive watch, follows suit by adding a 12-hour dual time bezel to an equally clean dial.
Dan Henry Watches
| | |
| --- | --- |
| Location: | US |
| Popular Models | 1964 Gran Turismo Chronograph, 1972 Maverick Chronograph |
| Design Style | Vintage inspired |
| Price Range: | $200 – $450 |
Every brand on this list has a niche. From meticulously crafted dials to coffee inspired designs, each has a specialization that fills a gap in the wristwatch market. Dan Henry specializes in value and variety.
Known for his expansive personal collection of vintage watches, Dan Henry created his own brand with the goal of making these classic designs available at accessible prices. Featuring mostly quartz chronographs with some dress watch and dive watch options, Dan Henry pays tribute to eras rather than specific watches. For example, the 1975 Skin Diver, available in both quartz and automatic, looks and wears like an amalgamation of 1970's skin divers. The 1962 Racing Chronograph, priced at only $280 and displaying a Maserati Tipo 60 on the caseback, is a fan favorite.
MKII Watches
| | |
| --- | --- |
| Location: | Wayne, PA |
| Popular Models | Hellion, Stringray, Paradive |
| Design Style | Modern-vintage military |
| Price Range: | $649 – $940 |
Mark 2 is Military lingo for "second generation". MK II embodies this idea by celebrating designs of the past with the benefits of modern technology. If you're looking for a Military watch with vintage charm but with revisited comfort and reliability, you've found it.
The Hellion, featuring a dial that is a hybrid of several war time designs, is a fantastic choice for a simple field watch. For more tool watch functionality, the Stingray is a dive watch inspired by the classic 1950s Marine Nationale issued timepieces. Highlighting MKII's commitment to iteration while paying homage to the watches that inspire them, the Stringray features a curved case back for enhanced comfort.
Serica Watches
| | |
| --- | --- |
| Location: | France |
| Popular Models | 4512 Field watch, 4512 California, 5303 Diver |
| Design Style | Vintage-inspired |
| Price Range: | $750 – $2000 |
For me, Serica was the B-side track that slowly became a favorite. I started seeing them last year on social media and found the aesthetic a bit too harsh. There was a lot to take in: The high contrast colorways, the California dials, the broad arrow hands that seemed a little too broad, and the mesh straps uniquely fitted onto an end link.
But, as is often the case, seeing one in the metal changed my mind. Shock turned into awe as I felt the build quality in my hands. It's not everyday you encounter a sports watch with modest dimensions powered by a SOPROD automatic movement at an accessible price. Throw in a distinct design, and you've got a winning combination that has earned its place among the microbrand greats and watch collections around the world.
Autodromo Watches
| | |
| --- | --- |
| Location: | Brooklyn, NY |
| Popular Models | Vallelunga, Prototipo Chronograph, Group C Digital |
| Design Style | Racing-inspired |
| Price Range: | $475 – $775 |
Start your engines! You don't have to be a gearhead to appreciate the automotive inspired watches that Autodromo has been crafting since 2011. Started by industrial designer Bradley Price with the goal to create unique watches in the spirit of motoring, Autodromo watches provide a minimalist, contemporary experience.
In a market saturated with tool watches, quartz chronographs and vintage inspiration, Autodromo's unique style provides some welcome variety. Autodromo is most known for the Vallelunga, a simple three-handed stainless steel lugless watch that has been around since the brand's infancy. In a move that shocked many, their most recent release, the Group C is a $475 digital watch that evokes the evolution of racing from analog aluminum cars to digital composite.
Common Questions About Microbrands?
What is a microbrand watch?
A watch brand that generally operates on a much smaller scale producing very niche timepieces. They're also noted specifically as having generally very minimal organization structures, meaning that the business side of things tends to operate quite lean and with more flexibility to pivot and adapt to consumer trends.
Are microbrand watches worth it?
Yes, but only if you know what you're getting into. Microbrand watches offer consumers watches that often take more design risks or those which more directly embody a design ethos that's specific to the consumer. However that comes with the tradeoff of not having many of the assurances that larger brands offer such as return policies/warranties, large-scale quality control, global recognition, and resale value.
What are the differences between a microbrand watch and a luxury watch?
A microbrand watch often doesn't come with the brand history and legacy that most legacy luxury watch brands have. Additionally, the quality control, fit/finish, and in-house movements/materials on luxury watch brands generally set them apart from microbrands.
Nathan Schultz is a New Hampshire based writer with a passion for affordable timepieces. He became obsessed with automatic watches in 2019 after learning not all watches have batteries, and quickly fell in love with the joys of collecting and modifying watches and meeting fellow enthusiasts. When not poring over new releases from big brands and microbrands, he can be found putting his tool watches to the test on local hiking trails.