Long ago during the double-digit era of the Two Broke Watch Snobs podcast, I said something that may have ticked a few folks off. I mentioned something about the SKX007-style case being superior to that of the Rolex Submariner and that if Seiko ever fitted that case with a GMT movement, it would be somewhat of an end-game watch for me.
Jump To:
Specs | Common Questions | Case | Bracelet | Dial | Movement | Overall | Alternatives
Not long after, the watch community wrestled with rumors of the SKX/7S26 divers being discontinued and eventually the truth was revealed. In 2019 Seiko announced the entirely revamped Seiko 5 Sports Collection, which made way for the Seiko 5 Sports GMT—a watch I could only dream of until now.
Seiko 5 GMT Specs
| | |
| --- | --- |
| Case Dimensions: | 42.5mm x 46mm x 13.6mm |
| Lug Width: | 22mm |
| Crystal: | Seiko Hardlex |
| Water Resistance: | 100m |
| Lume: | Seiko LumiBrite |
| Movement: | Seiko 4R34 |
If you're brave enough to scour the depths of old watch forum posts, you'll probably find some weird experiments where collectors would try to fit GMT movements into an SKX007. I know, because even I considered that freakish mod at some point.
But now, Seiko has completely removed the need for such strange modding and at the same time, introduced a movement into the market that is about to transform affordable automatic GMT watch offerings everywhere. I may be getting ahead of myself here so let's focus on the new Seiko 5 Sports GMT SSK005, specs, and all that cool stuff.
Commonly Asked Questions About The Seiko 5 GMT
How much is the Seiko 5 GMT?
You can pick up one of these Seiko 5 GMTs for $475.
What Colors Does The Seiko 5 GMT Come in?
The Seiko 5 GMT is available in black (SSK001), blue (SSK003), and orange (SSK005).
Is the Seiko 5 GMT A Jumping Hour GMT?
This GMT does not have a jumping local hour feature. Only the 24-hour GMT hand can be adjusted via the crown.
Iconic Seiko Stainless Steel Case With Small Tweaks
Even after doing this podcast and watch site thing for over five years, I still don't own a set of calipers. But I can assure you that if you're even moderately familiar with the older Seiko SKX divers, you already have a great idea of what the stainless steel case of this new Seiko 5 GMT wears like. That 42.5mm case diameter is still there along with a case thickness of 13.6mm, and a lug-to-lug distance of 46mm.
Come to think of it, the biggest change between this and an older SKX may be in the case thickness, due to Seiko fitting these with an exhibition caseback (I'm assuming hardlex). And in typical Seiko fashion, those melted-looking lugs with combined brushed and polished finishing really lead the watch to wear much smaller.
One of my favorite design features of the SKX divers is the asymmetrical placement of the crown and crown guards. You still get that with the SSK005 but in this case, it comes with a push/pull crown and 100m of water-resistance. Now, I'm still wrestling with this and sometimes think a screw-down crown plus a 200m water-resistance rating would've made this perfect. But as Spencer Klein demonstrated with a quick pressure test, the case can clearly handle whatever I'd put it through. And if that's not enough to keep you from fetishizing screw-down crowns, remember, the TR-900 didn't have a screw-down crown either.
The GMT bezel itself is gorgeous. The top is lined with what I'm assuming is hardlex, giving it a glossy appearance. It's a bi-directional rotating bezel, and free-floating—no clicks on this one. The coolest feature here is whatever Seiko did to visually bisect the 24-hour scale, which leads the "daylight" portion of the scale to react with a greater degree of reflectivity. This results in a black and grey division, depending on how you look at the watch. I've never seen anything like this on a Seiko watch before.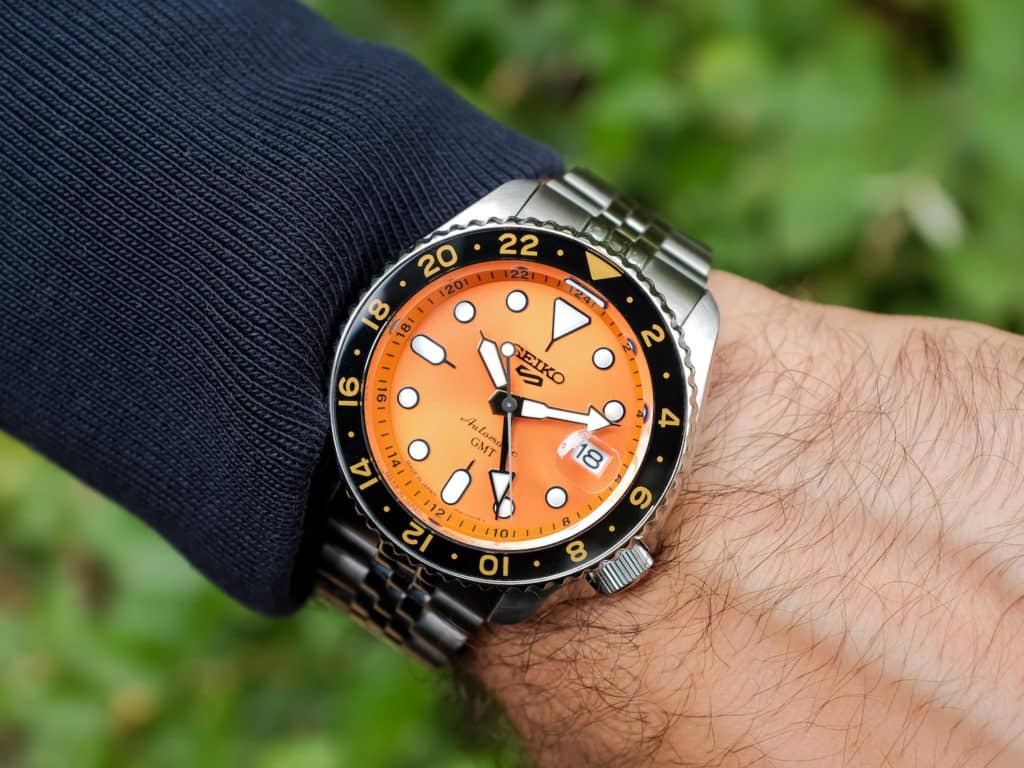 Balanced Dial With Strong Legibility
Under the hardlex crystal (with a take-it-or-leave-it kind of cyclops), you get the usual in terms of a highly-legible Seiko sports watch dial with serious lume. The indices with Lumibrite actually seem a little more refined than what I've seen in some Prospex models, and the black surrounds serve to bump up the legibility against the orange dial backdrop.
Speaking of the orange, it's more of a sunray finish and not something flat or matte like what you'd get on a Doxa or an old Seiko Monster. Again, there is balance in the dial text—'Seiko' and the Seiko 5 logo under 12 o'clock, along with 'Automatic' and 'GMT' above 6 o'clock. Not much to say about the date window, other than I'd probably like it without the cyclops.
The handset here is a great match when you consider all the colors shared across the dial and bezel. The GMT hand, in a deep glossy black, matches with the inner 24-hour scale along the chapter ring. The gilt hour hand and minute hand almost seem like a tribute to the SKX011J (and some 7548) watches of the past. And, something about the deep black gloss on the second hand counterweight just gets me.
There's just real depth to the dial overall without resulting in a crowded look. By the way, if the orange isn't to your liking, remember that this watch can be had with a black dial (SSK001) or a blue dial (SSK003). I also wouldn't be surprised if we get limited edition releases in the future or just a ton of other colors in general.
Typical Seiko 5 Bracelet Quality
This one is easy. I love a good, jangly, Seiko jubilee-style bracelet. I miss the one on my old SKX all the time. This one appears slightly different in its construction but overall, it'll feel very familiar if you ever had an SKX. This time, however, the clasp comes updated with a dual push button release. It's nothing fancy and I've already seen folks complaining about the stamped clasp not feeling "premium" enough.
But dammit, I think a cheap-feeling, stamped, lightweight stainless steel bracelet is better. That's just me. And like the older models, this bracelet tapers from 22mm up top down to what I think is 20mm at the clasp. Also if the polished bits, pin and collar system, or the clasp turn you off, this watch would go great on a NATO strap.
The New Seiko 4R34 Movement
The new GMT movement from Seiko is the in-house 4R34 movement and during my time with the watch, it's done a perfectly good job of allowing me to track a time zone here and there, and over there if I needed to. That's three time zones, in case that last sentence made you keel over. And no, it doesn't have local jumping hour capability but I still know what time it is, my house hasn't burned down, my wife hasn't left me, and I've managed to remain pretty punctual during most of my engagements. The power reserve isn't bad either at 40 hours or so.
As I mentioned earlier, I think it'll be interesting to track the accuracy and longevity of these movements over time. I'm already seeing smaller brands prepare for future releases with the NH equivalent of this movement, the NH34. It operates just like any other "caller" style GMT, with operations for the date and second time zone reserved for the crown's second position. By the way, you can watch the movement undergo a full teardown by Spencer Klein here. Worth the watch if you're curious about parts used, GMT function, and deeper technical details.
Final Thoughts
So I guess I have to wonder, is this new GMT series it? The perfect Seiko I used to dream of years earlier? Well the automatic movement with manual winding function, the killer price point, and classic Seiko looks get me pretty close. And heck, it's an in-house GMT movement from Seiko, finally! I think it's difficult to articulate how important that is, especially when it comes in at $475. But the one thing that would really only stop me here is the dial color. Something about the orange paired with the sunray pattern just didn't do it for me. Silly, I know. But thankfully there are other colors available and I'm sure there are plenty more versions on the horizon.
I think aside from the revamped Seiko "Arnie" divers, this is one of the best Seiko releases in recent years. I'd like to go hands-on with the black and blue versions to see if they'd stick. But if you're on the fence, curious about quality or finishing, I'd say just go for it. Wear the heck out it, put it through its paces, and enjoy it. Before long, you won't even remember that it doesn't have a screw-down crown.
Seiko 5 GMT Alternatives
Feel like maybe the Seiko 5 GMT isn't quite what you're looking for? Check out the following GMT watches below for some interesting alternatives.
Alternative #1: Steinhart Ocean 39 GMT
Riffing on the iconic Submariner case profile, the Steinhart Ocean 39 GMT is a great alternative to the Seiko 5 GMT if you're looking for a more classic design built on a time-tested ETA-based movement. We've got a full review you can read here.
Alternative #2: Q Timex GMT
If you didn't mind a quartz movement (or if you honestly preferred one) the fantastically popular Q Timex GMT would be a great alternative to the Seiko 5 GMT. The Q Timex GMT has a smaller size, better price tag, and a slightly more nuanced vintage design.

Michael Peñate is an American writer, photographer, and podcaster based in Seattle, Washington. His work typically focuses on the passage of time and the tools we use to connect with that very journey. From aviation to music and travel, his interests span a multitude of disciplines that often intersect with the world of watches – and the obsessive culture behind collecting them.