If you've been around the watch collecting game for a bit, you've probably stumbled on the significant military history tied into the very existence of wristwatches. The deeper you dig, the more you find that the essential need for a wristwatch sprung up some time during World War I and the emergence of this period's archetypal trench warfare—long before the wristwatch was even mainstream.
Today, this connection has led to a persistent intersection between militaria collectors and watch enthusiasts alike. Things get even more interesting when you find how expansive this universe can be. Collectors often debate military spec sheets, hunt down service log books tied to military branches, seek out issued pieces that have seen action, and argue about who "actually won that contract."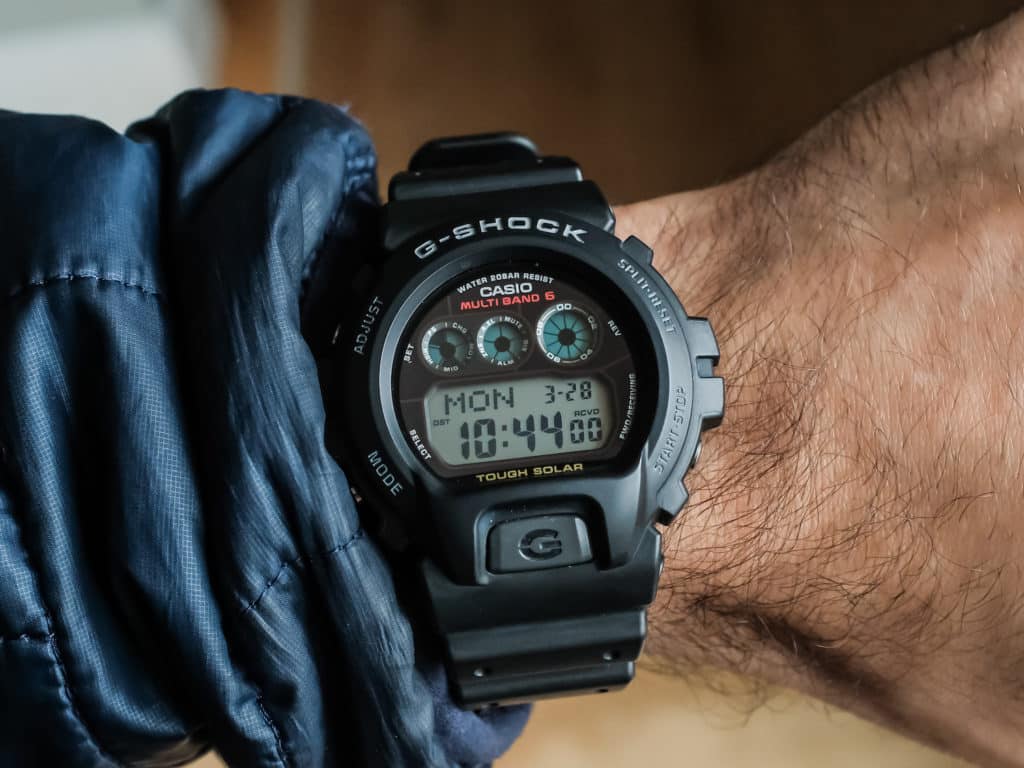 Here's the cool part. Today, it doesn't take much to find something that has this profound connection. In fact, it's a lane of watch collecting that seemingly lacks the pomp and circumstance surrounding other watch-collecting interests the blogs love to obsess over. That's because these timepieces just need to work, above all else. And they're out there, across a wide range of price brackets—both vintage and modern. So whether you're serving in the field—or simply a casual enjoyer of the fashion subreddit that is r/TacticalGear, guarding the tendies in your basement lair—here are some of the best military watches available now.
Casio F91W Alarm Chronograph
| | |
| --- | --- |
| Case Size | 38.2mm × 35.2mm × 8.5mm |
| Movement | Casio Quartz |
| Battery Life | 7 years |
| Crystal | Plastic |
| Water Resistance | 30m |
| Price | $15 |
This should come as no surprise. And if you're finding yourself doubtful about this Casio's inclusion in this list, we urge you to read this compelling dispatch entry by Watches of Espionage. If you've served in the field, chances are you've seen these around—and with good reason.
The Casio F91W is a no-nonsense quartz ticker with a clear display and functions like an alarm, backlight, and a chronograph. One of the downsides is its skimpy 30m of water-resistance, which should still be fine for most use cases. At the very least, these watches make for a good piece of backup kit. Two is one, one is none.
Timex Ironman Triathlon Original
| | |
| --- | --- |
| Case Size | 42mm x 49mm x 15mm |
| Movement | Quartz Digital |
| Battery Life | 4 years |
| Crystal | Mineral Glass |
| Water Resistance | 200m |
| Price | $70 |
Retired Navy SEAL Jocko Willink is quite possibly one of the most terrifying men on the planet. He also gained some notoriety in recent years—not necessarily because of his decorated military career or Brazilian jiu-jitsu skills—but because of his Timex Ironman T66801 (now out of production). Dubbed the "world's most inspiring watch" by Time & Tide, Jocko regularly posts shots of it on social media marking the start of his 4:30AM workouts.
Today, Timex offers the Ironman Original 30, what they call a tribute to the original 1986 Ironman. Surprisingly, the watch clears a solid 200m of water resistance and bears a striking resemblance to Willink's Timex. These Ironman watches are everywhere. And although it's a bit thick for a digital at 15mm, it's a solid feature-packed choice that's ready for any job.
Casio G-Shock GW6900-1
| | |
| --- | --- |
| Case Size | 53.2mm × 50mm × 17.7mm |
| Movement | Tough Solar Multi-Band 6 |
| Battery Life | 10 Months (Full Charge) |
| Crystal | Mineral Glass |
| Water Resistance | 200m |
| Price | $100 |
You may not like it, but this is what peak performance looks like. In fact, I'd argue that the most famous military G-Shock ever is Chris Kyle's DW-6600-1V. While it's probably the most commonly-used watch across military branches all over the world, not all G-Shocks are created equal. Sure, a basic model will probably take anything you throw at it, but this version adds in a few upgrades.
Specifically, the GW6900-1 features Casio's Tough Solar tech along with Multi Band 6 and one of the clearest dual time zone readouts you can get on a digital watch. A full solar charge will last 10 months. But again, these are on the thicker side. If that bugs you, we have some slimmer options later in this article.
Scurfa Diver One
| | |
| --- | --- |
| Case Size | 40mm x 47mm x 14mm |
| Movement | Ronda 713SM |
| Battery Life | 60 months |
| Crystal | Sapphire |
| Water Resistance | 500m |
| Price Range | $200 – $300 |
Owned and operated by Paul Scurfield, a North Sea commercial saturation diver, Scurfa offers some of the most affordable and durable dive watches with Swiss movements you can find anywhere. They're also incredibly capable, with 500m of water resistance and some titanium options. The stainless steel case is also compact and slim, with designs reminiscent of old-school Tudor divers but at an easier level of accessibility.
The sword hands also call back to the mil-spec guidelines followed by brands like CWC today. You can snag them in a couple of different dial colors and there's a black PVD version to satisfy your tacticool needs. All of the models ship with a rubber strap but this will probably do a bit better on a nylon NATO strap. Feel free to explore our full write-up on the Scurfa Diver One.
Casio G-Shock Rangeman Tactical Watch
| | |
| --- | --- |
| Case Size | 55.2mm × 53.5mm × 18.2mm |
| Movement | Tough Solar w/Altimeter, Barometer, Compass |
| Battery Life | 10 Months (Full Charge) |
| Crystal | Mineral Glass |
| Water Resistance | 200m |
| Price Range | $290 – $330 |
After the 2020 film Extraction, it's no secret that Chris Hemsworth brought some G-Shock Rangeman hype to the world of tactical watches. While a lot of it may seem like Hollywood nonsense, this watch is actually a solid choice that often serves in the field. At this tier of the G-Shock hierarchy, you start to see the addition of altimeter, barometer, and compass features.
Like many others, this model offers convenient solar charging but the case is massively thick at 18.2mm. One thing to keep in mind is that watches with a compass feature are often prohibited if you're in the process of completing land navigation courses during your training. If you've graduated and have the wrists for it, have at it!
Casio Pro Trek PRW3500-1 Tactical Watch
| | |
| --- | --- |
| Case Size | 56.9mm x 53.4mm x 14.5mm |
| Movement | Tough Solar w/Altimeter, Barometer, Compass |
| Battery Life | 10 Months (Full Charge) |
| Crystal | Mineral Glass |
| Water Resistance | 200m |
| Price | $330 |
The Casio Pro Trek PRW3500-1 Tactical offers similar altimeter, barometer, and compass functionality in a slimmer package. The addition of compass markings at the bezel also veers closer to a more classic tool watch look. As we continue climbing in price, however, keep note that a watch like this isn't bringing you a sapphire crystal, which the previously mentioned Scurfa Diver One does.
Still, the Casio Pro Trek series is full of great options that can be packed with as many or as few features as you'd like. This model even comes in a wide range of color options with different accents along the straps and bezels.
Marathon Navigator
| | |
| --- | --- |
| Case Size | 41mm x 48mm x 13mm |
| Movement | High-torque ETA F06 |
| Battery Life | 94 months |
| Crystal | Sapphire |
| Water Resistance | 60m |
| Price Range | $420 – $480 |
We've long proclaimed how much of a serious pilot's watch the Marathon Navigator is. Really, when it comes to affordability and its real-world popularity, you really can't beat it. Originally designed in collaboration with Kelly Air Force Base, Marathon has been steadily improving on the model, with a more recent and very popular stainless steel release.
The resin case models are lightweight and honestly classic at this point. It's so cool to see older examples that were in service during the 90s pop up from time to time. These are available all day and it's a perfect option if you want something affordable that doesn't fall into the usual dive watch thing.
Luminox Navy Seal EVO 3000 Series
| | |
| --- | --- |
| Case Size | 43mm x 46mm x 13mm |
| Movement | Ronda 515 |
| Battery Life | 50 months |
| Crystal | Mineral Glass |
| Water Resistance | 200m |
| Price | $475 |
Aside from G-Shocks or a diver watch from Tudor, few brands are as closely connected to the Navy SEALs as Luminox. The original 3000 model is the classic Luminox when you think of the SEALs. Unlike some newer models, the case size is reasonable at 43mm.
The analog dial is also fitted with luminous tritium gas tubes that emit a constant glow, which aids with nighttime visibility. As a quartz watch, you'll also never really have to worry about accuracy. I would like to have seen these newest models come with a sapphire crystal but Luminox ships them with hardened mineral glass. A silicone rubber strap completes the entire package—a watch I'm sure will be hard to take off.
Seiko Turtle
| | |
| --- | --- |
| Case Size | 44.3mm x 48mm x 14mm |
| Movement | Seiko 4R36 |
| Battery Life | 40 Hours |
| Crystal | Seiko Hardlex |
| Water Resistance | 200m |
| Price Range | $495 – $525 |
By now, it's clear that the Seiko Turtle diver with its distinct cushion case is pretty popular with guys in Special Operations. Just look at guys like Kyle Defoor and Dave Hall if you need that kind of confirmation. No matter how you look at it, these Seiko divers have long been seen as reliable and accessible sport watches that you could drag through almost anything.
Commonly seen in the SpecOps community as far back as the 1970s, Seiko makes a modern and faithful interpretation of the turtle today, the SRP777. Several options are available with different dial color, strap, and bracelet options. But if it were up to me, I'd stick with the classic black dial model.
Seiko Arnie
| | |
| --- | --- |
| Case Size | 47.8mm x 50.5mm x 13.8mm |
| Movement | Seiko Solar H851 |
| Battery Life | 20 months (Full Charge) |
| Crystal | Seiko Hardlex |
| Water Resistance | 200m |
| Price | $525 |
Moving on to another Seiko with a somewhat deeper Hollywood connection, we get to the SNJ025—the modern-day "Arnie." This shock resistant diver with an analog/digital display is often seen as one of Seiko's best-executed modern reissues. Aside from the solar movement, you also get a calendar, second time zone, a chronograph, and an alarm.
These features are all controlled by an intuitive array of crowns that also screw down to ensure water-resistance. It's the kind of watchmaking that still elevates Seiko today when it comes to affordable watches. I can also see this being a good fit if you're an aviator, considering you get such a clear dual-time readout along with the option for an elapsed timing bezel.
Hamilton Khaki Field Mechanical
| | |
| --- | --- |
| Case Size | 38mm x 47mm x 9.5mm |
| Movement | Caliber H-50 (ETA 2801-2 on previous models) |
| Battery Life | 80 Hours |
| Crystal | Sapphire |
| Water Resistance | 50m |
| Price | $595 |
Trace history all the back to the earliest days of military watches and you'll almost exclusively see what we refer to as the field watch. This clear, legible, and often time-only design has seen so much use and evolution throughout the decades, especially during WWII. And brands like Hamilton and Bulova are often seen as some of the top players when it comes to the field watch.
The Khaki Field Mechanical can really be your first and last watch. You get a compact case that's more classically sized and an incredible 80 hours of power reserve. It's a more subtle and timeless option when you compare it to some of the more aggressive designs on this list. The only downside is the lack of a screw-down crown, which would serve to elevate the watch in terms of durability. These watches also absolutely kill it on a leather strap.
CWC SBS Diver
| | |
| --- | --- |
| Case Size | 41mm x 47mm x 11mm |
| Movement | Ronda 517 |
| Battery Life | 50 Months |
| Crystal | Sapphire |
| Water Resistance | 300m |
| Price | $745 |
Let's get this out of the way. I think if Commander James Bond was a real-life agent in today's age, there's a good chance he'd be wearing a CWC dive watch. The SBS, or blacked-out quartz variant of the diver is in many ways the best modern-day Milsub you can get. And CWC is still supplying to the Ministry of Defence today.
Based on the DEF STAN 66-4 [Part 1] Issue 3 spec followed by other brands like Precista, the SBS Diver is a slim durable and highly-capable package. If this case finish isn't to your liking, CWC also offer brushed and fully-polished stainless steel case versions. For most of these, you're still well under $1,000 if you aren't springing for a limited edition. Enough of this Rolex vs. Omega nonsense 😉
Ares Watch Company DIVER-1 Mission Timer
| | |
| --- | --- |
| Case Size | 42mm x 49.5mm x 13.3mm |
| Movement | Ronda 715Li |
| Battery Life | 60 Months |
| Crystal | Sapphire |
| Water Resistance | 1000m |
| Price Range | Starting at $749 |
One of the more fascinating lanes you can dig into with military watches involves smaller batch producers. ARES was founded by Matt Graham, a watchmaker that previously worked as a police officer, a Federal Air Marshal, and a member of the Central Intelligence Agency. The DIVER-1 is the brand's flagship model and it packs some serious punch.
This more unconventional dive watch design stands out and has gained popularity over the years with buyers looking for something durable and out of the box. Water resistance is an incredible 1,000m and you can get the DIVER-1 with a Lithium-Ion quartz movement or a Swiss automatic movement. ARES even offers Cerakote case finishing customization if that's your thing.
Sangin Instruments Dark Professional
| | |
| --- | --- |
| Case Size | 43.5mm x 49.5mm x 12mm |
| Movement | Ronda Quartz GMT |
| Battery Life | 45 Months |
| Crystal | Sapphire |
| Water Resistance | 300m |
| Price | $795 (This Configuration) |
In his journey to transition to civilian life after serving in MARSOC, Jake Servantes set out to start a watch brand that stood apart while offering something incredibly special to professionals operating all over the world. Named after what is often called the most kinetic (and dangerous) battleground in Afghanistan, Sangin Instruments seeks to equip individuals with watches that will truly stand up to any task. The response from active-duty military, veteran, law enforcement, and first responder communities has been nothing short of phenomenal.
The Sangin Professional pictured here, is one such instrument. With a robust quartz movement, dual and elapsed time tracking abilities, and black DLC case, it might be as good as it gets when it comes to a rugged timepiece. Notably, one of the watch's more recent and impactful appearances, was on the wrist of U.S. Marine Corps Sgt. Tyler Vargas-Andrews as he delivered harrowing testimony of his team's evacuation from Kabul during the U.S. withdrawal from Afghanistan in August 2021. Truly a story everyone should hear.
MK II Paradive Type XIII
| | |
| --- | --- |
| Case Size | 41.2mm x 49.5mm x 15.5mm |
| Movement | SII NE-15 |
| Battery Life | 50 Hours |
| Crystal | Sapphire |
| Water Resistance | 200m |
| Price | $895 |
Much like the Marathon Navigator, the MK II Paradive Type XIII takes a time-tested military specification and modernizes it for everyday use. This American MIL-W-50717 specification can be traced back to the 1970s and has stood as one of the most unique military watch designs ever. Often, these watches are referred to as "the American Milsub."
This model from MK II is a little special in the sense that the hands and dial are fitted in to look like mismatched replacement pieces. The result is a watch that looks like it has been around, with repairs that double as cool modifications. The SII NE-15 movement will ensure ease of serviceability down the road and the power reserve isn't bad at 50 hours.
Garmin Fenix 7 Series
| | |
| --- | --- |
| Case Size | 47mm x 47mm x 17.7mm |
| Movement | Garmin Proprietary Module |
| Battery Life | 14 – 48 Days |
| Crystal | Sapphire |
| Water Resistance | 100m |
| Price Range | $649 – $999 |
Some of the most preferred wristwatches in and around the military are Garmin watches. Like G-Shocks, they're incredibly widespread in active duty scenarios but come packed with an almost absurd amount of features. This goes beyond having just altimeter/barometer/compass functionality. Watches like the Fenix 6 can do that and so much more.
The Fenix series can be had across a range of sizes with added functions like health monitoring and topographical map navigation. There's also the option of connecting the watch to a huge list of compatible devices, including mobile phones. Just keep in mind that connected features like Bluetooth and wireless communication are often prohibited in and around sensitive or classified facilities.
Garmin Tactix Delta Solar
| | |
| --- | --- |
| Case Size | 51mm x 51mm x 14.9 mm |
| Movement | Garmin Proprietary Module |
| Battery Life | 15 Hours – 56 Days |
| Crystal | Sapphire |
| Water Resistance | 100m |
| Price | $1,099 |
The Garmin Tactix Delta Solar takes things up a notch with solar charging. These are also built to the MIL-STD-810 spec standards and have a slightly more "tactical" look to them. One thing that stands out is the choice to offer these on a nylon band, which isn't typical when it comes to these Garmin watches.
Again, it would be too much to go through every included and and possible feature in one place. Some of the highlights include a display mode compatible with NVGs, jump tracking abilities, a stealth mode that disables wireless connectivity and communication, and a kill switch that wipes the watch of all stored data if your security is ever compromised.
Marathon TSAR Quartz
| | |
| --- | --- |
| Case Size | 41mm x 48mm x 14mm |
| Movement | ETA High-Torque F06 |
| Battery Life | 94 Months |
| Crystal | Sapphire |
| Water Resistance | 300m |
| Price | $1,200 |
Marathon has been producing military watches since 1941. Originally designed for Canadian search and rescue operations, the 41mm TSAR has become extremely popular, with military and government organizations still placing orders for it today. And while we continue to climb beyond the $1,000+ threshold, I still think you can see these as a bargain especially if you find a good deal on a used model.
The TSAR brings you the same high-legibility dial with tritium tubes you get with watches like the Luminox 3000 or Marathon Navigator. While a bit thick, it's still relatively lightweight and doesn't feel like a nuisance on the wrist. One day, I'd like to see Marathon make a titanium version. That would be out of this world.
RESCO BlackFrog Gen2
| | |
| --- | --- |
| Case Size | 42mm x 50mm x 13mm |
| Movement | Quartz Ronda or Sellita SW200 |
| Battery Life | 38 Hours |
| Crystal | Sapphire |
| Water Resistance | 300m |
| Price Range | $1,905 – $2,155 |
RESCO was founded in 2009 by R.E. Smith, a retired Navy SEAL who served 22 years active duty. Today he operates the brand together with his wife, a United States Coast Guard veteran. The watches are assembled and tested in Coronado, California with production limited to between 600 and 1,000 watches per year.
The BlackFrog Gen2 is one of the brand's stealthier models, which also comes with a Swiss SW200 movement. However, the watch can also be ordered with a quartz Ronda movement at a more affordable price. One thing to keep in mind, is that RESCO seems to run a year-round automatic 15% discount on their site, at least it looks that way at the time of writing this article.
Sinn EZM 3F
| | |
| --- | --- |
| Case Size | 41mm x 47mm x 11.7mm |
| Movement | ETA 2824-2 |
| Battery Life | 38 Hours |
| Crystal | Sapphire |
| Water Resistance | 200m |
| Price | $2,420 |
With lineage that can be traced back to the legendary Sinn EZM-1, the EZM 3F "flieger" model has to be one of the coolest watches in the Sinn catalog. While it's criminally underappreciated, the EZM 3F is like nothing you've ever seen in a pilot's watch. On top of that, it's packed with all the Sinn tech the brand is famous for.
This includes the Argon gas filling, copper sulfate drying capsule, and EDR seals hat reduce air flow by 25%. The watch is driven by the trusty ETA2824 and offers 200m of water resistance. That's a nice plus for a pilot's watch. We highly recommend reading our in-depth write-up of the EZM 3F here.
Bremont Supermarine S302 GMT
| | |
| --- | --- |
| Case Size | 40mm x 49mm x 12.5mm |
| Movement | ETA 2893-2 |
| Battery Life | 38 Hours |
| Crystal | Sapphire |
| Water Resistance | 300m |
| Price Range | $4,195 |
One of today's most capable brands that also produces special unit watches is Bremont. They're also a partner of the Ministry of Defence (MoD) and have become the sole luxury watch brand allowed to use the Heraldic Badges of HMAF in their designs. To me, the recently released Supermarine S302 GMT is as good as it gets in the world of Bremont.
With a super reliable ETA 2893-2 GMT movement, longterm service costs will be cheaper. On top of that, it's hard to argue against the combination dual-time tracking and an elapsed time bezel. Bremont's signature Trick-Tip case construction also ensures a more advanced level of shock resistance.
Commonly Asked Questions About Military Watches
What watches are worn in the military?
Military personnel all over the world rely on a wide variety of watches. In some cases, service members are even issued watches. However, that practice is not as common as it used to be. When looking at United States military installations worldwide, individuals often choose to purchase watches at an exchange, or PX. It's here where they commonly purchase models from brands like Casio, Timex, Citizen, and many others. It's a safe bet that those three brands alone cover a large group of service members, thanks to their expansive selections of durable models.
Which G-Shock is used by the military?
At one point in time, the Casio G-Shock DW-6600 seemed to have been issued to the US Navy SEALs. Today. similar models like the DW-6900 and the DW-5600 see widespread use across military branches all over the world. Models like the GW-6900 with solar battery charging are also very common.
Why do military personnel wear watches inside the wrist?
Some active duty military members choose to wear their watches "upside down" with the watch head resting inside the wrist. Some tactical benefits include stealth (while hiding crystal glare or reflective surfaces), comfort, ease of mobility, and a reduced chance of snagging the watch on something while on missions.
What watch should I get for Basic Training?
Most would agree that your Basic Training packing list should be simple and very focused on your immediate needs. When it comes to a wristwatch, you'll more than likely just need something that's cheap and water resistant, with an alarm and a display option for 24hr time format. A basic Timex or Casio will do the trick and you can get it at Walmart.

Michael Peñate is an American writer, photographer, and podcaster based in Seattle, Washington. His work typically focuses on the passage of time and the tools we use to connect with that very journey. From aviation to music and travel, his interests span a multitude of disciplines that often intersect with the world of watches – and the obsessive culture behind collecting them.