I think at some point in every watch collector's lifecycle, the idea of an isolated, accurate, and self-sustaining timepiece becomes remarkably fascinating. The hunger for accuracy can come from anywhere, but it can often stem from our frustrations with mechanical pieces that have let us down.
Jump To:
Common Questions | Specs | Case | Dial | Strap | Movement | Overall | Alternatives
As TBWS has evolved, the concept of a "grab and go" quartz option has been something several readers and listeners have pursued ferociously—and the Citizen Eco-Drive Promaster Diver* seems to be an option that consistently comes out on top. For me, this is a watch that holds a special place in my heart, after Kaz gave the wristwatch to me as a gift a few years ago. Now after serving me for quite some time, I think it's a great idea to finally get my thoughts down on the site.
Commonl Questions About The Citizen Promaster Diver
How Much Is A Citizen Promaster?
Depending on the model you choose, a typical price to pay would be between $250 – $300.
Is The Citizen Promaster Diver ISO Certified?
Yes – the Citizen Promaster Diver is ISO certified, which makes it a high functionality professional diver.
Is The Citizen Promaster Automatic?
No, this Citizen Promaster Diver is powered by the Citizen Eco-Drive E168 movement, which is a solar quartz watch movement.
How Long Will A Citizen Eco-Drive Last Without Light?
Approx. 6 months as per the specifications from Citizen Watches.
The first time I laid eyes on the Citizen Promaster Diver was during my time perusing Terry's ToxiNATOs Instagram feed, and seeing it with an attractive bunch of straps. Something about the compact case styling, care-free Eco-Drive movement, and low price just really spoke to me. But, naturally, I took way too long to make a decision. That's when my best bud Kaz stepped in and gave it to me during the great TBWS Christmas gift battle of 2016. I was floored from day one and now, I get to scream my praises from the top of the world.
Citizen Promaster Diver Specs
| | |
| --- | --- |
| Case Dimensions: | 43mm x 48mm x 11.5mm |
| Lug Width: | 20mm |
| Crystal: | Mineral Crystal (with anti-reflective coating) |
| Water Resistance: | Diver 200m |
| Lume: | BGW9 |
| Movement: | Citizen Eco-Drive E168 |
Iconic Citizen Promaster Stainless Steel Case
It's a good idea to start with what was perhaps most surprising after getting this one on the wrist—case proportions. The watch almost feels lugless and the compact fit really translates well on the stock strap or a NATO. On paper, we have a 43mm case diameter, 48mm lug-to-lug distance, and a thickness of just 11.5mm. Combine that with the super lightweight nature of the Eco-Drive movement, and you have a watch that almost feels like a titanium diver… especially on a nylon strap. Water resistance is 200m and I had no qualms about taking this one swimming in the Hood Canal off the beautiful shores of Seabeck, WA.
The aluminum unidirectional rotating bezel incorporates an accurate 60-click mechanism that I find preferable to 120-click systems for quick timekeeping. It really does hit every mark but the teeth configuration is slightly awkward and not as grippy as I would have hoped. Thankfully, it doesn't take much to turn it. At 4 o'clock, the screw down crown sits pretty close to the rest of the steel case and is also easy to operate. The bezel insert itself is fully graduated and serves as a good match with the aforementioned click mechanism.
Highly Legible Diver Watch Dial
Everything about the Citizen Eco-Drive Promaster's dial fits flawlessly with the idea of dive watch legibility. Information is clearly marked, the analog hands cause zero confusion, and the indices markers are spot-on. Even the 4 o' clock date window—which eats slightly into the hour marker—is pleasantly integrated. I'm also very impressed with the overall size of the handset, especially when switching between this watch and something like my Doxa, which features really unconventional hand sizes.
While I didn't get any shots here, the lume is Citizen's aqua tone BGW9 and I absolutely love it. Low light visibility is no issue and even seconds hand is slightly lumed. All these features make for a dial that's just fun to interact with. Above all, the blue tone is also a sight to behold and can often transition to a sort of deep purple depending on the light. I've also had zero issues with the AR-coated mineral crystal. No chips or scratches… nothing.
If you aren't a fan of the blue dial, there is a black version of the Citizen Promaster Diver available.

No-Decompression Limits Polyurethane Strap
Like many of Citizen's dive watches, the Promaster Diver comes with a polyurethane strap (similar to a rubber strap but with some differences) featuring no-decompression limits. It's comfortable but I quickly removed it and stored it for preservation. Besides, I always found those a bit difficult to manipulate and shape for a comfortable fit. Since then, I've only worn the watch on a standard BluShark NATO strap and I think it's probably the best option.
I have, however, seen a stainless steel bracelet offered by Citizen that looks compelling. But, I almost think that it would take away from the attractive, lightweight nature of the watch overall. Still, with a 20mm lug width, it's going to be incredibly easy to find something that works for you. Come to think of it, sailcloth might be a neat alternative to the stock strap.
Citizen Eco-Drive E168 Movement
Aside from the price, I'd argue that the biggest selling point here is Citizen's Eco-Drive movement tech that's behind the caseback. Specifically, it's the Citizen 3-hand E168 with 6 months of power reserve on a full charge. According to Citizen, this movement is also capable of a +/- 15 seconds per month accuracy range with a 32,768Hz quartz oscillator frequency. Additionally, the movement will also revert to a low charge two-second interval mode if the battery is running low. This only happened to me once and placing the watch on a window sill for a few hours was really all it took to get it back to a full charge.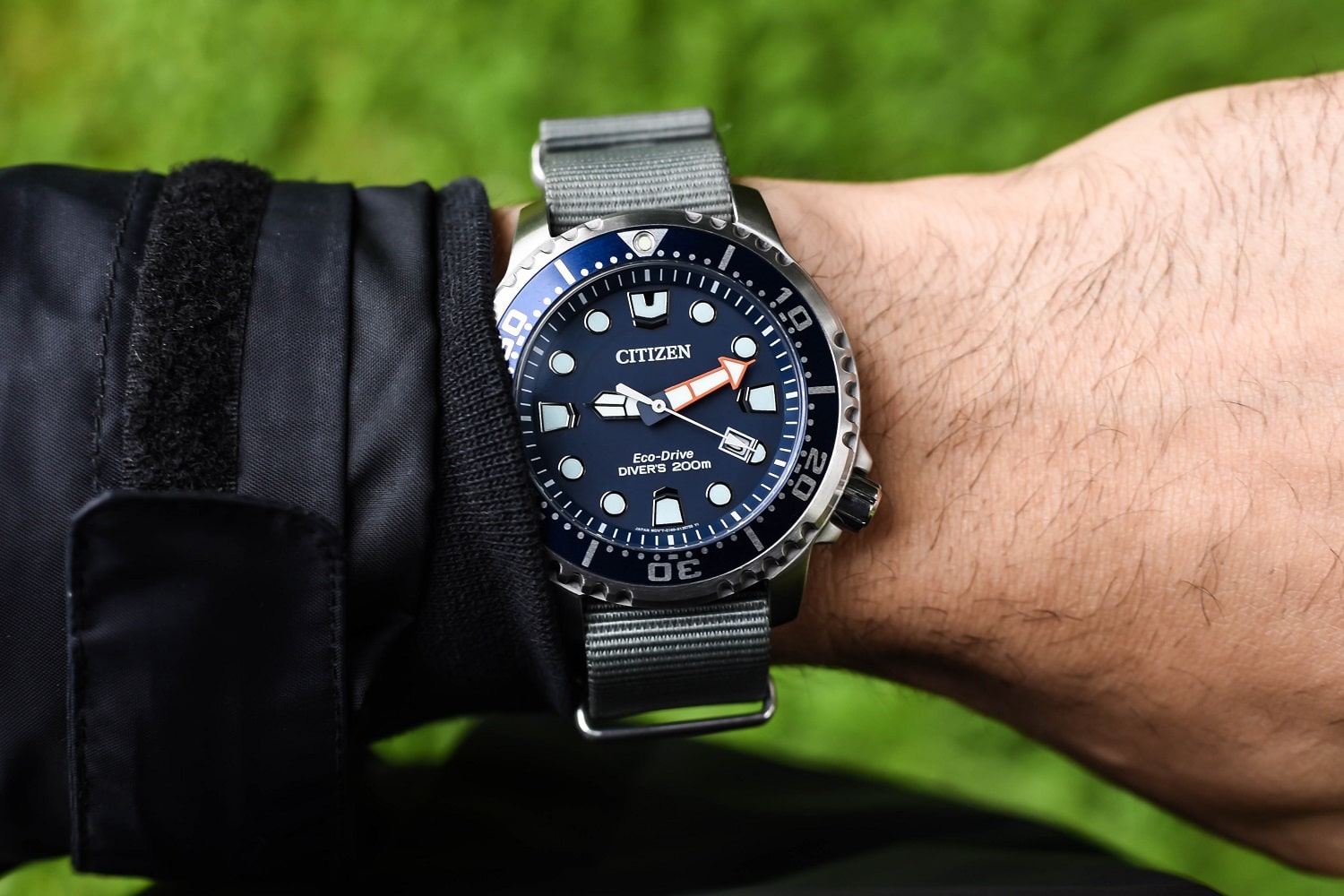 Final Thoughts
Even with options from brands like Doxa, CWC, and Omega spanning my collection, I'm still very proud of owning the Citizen Eco-Drive Promaster Diver – it's honestly just a great watch. It's another one of those "Honda Civics" of the watch world and a piece I reach for regularly. It has seen a ton of hikes, lake outings, jogging, and casual days at the office. Really, I find it hard to believe that anyone could be on the fence about this one—especially now that prices are dipping so low.
Sure, the bezel could be a little less slippery, but that really is my only issue with the watch. One strike, that's it. That almost never happens in a watch review. To learn more about the Citizen Eco-Drive Promaster Diver, please visit the official Citizen Watches site.
Citizen Promaster Diver Alternatives
Like the idea of an affordable diver but just aren't that into the Citizen Promaster Diver? No worries – here are some great alternatives for you to check out.
Alternative #1: Seiko 5KX
Building upon the lineage of the famous Seiko SKX007, the latest revamp of the iconic diver has been developed within the Seiko 5 line (hence the nickname 5KX). While some of the specs aren't as function-heavy as the Citizen, there are a variety of dial and style options available that give you more creativity to express yourself with your watch choice – check out the full review.
Alternative #2: Orient Mako II
Routinely heralded as the most affordable mechanical dive watch on the market, the Orient Mako II offers an incredible amount of value for the cost of the watch (nearly half the cost of the Citizen Promaster Diver). The Orient Mako II would also be a great option for someone looking for a diver that was slightly smaller than the Citizen Promaster – see our full write-up!

Michael Peñate is an American writer, photographer, and podcaster based in Seattle, Washington. His work typically focuses on the passage of time and the tools we use to connect with that very journey. From aviation to music and travel, his interests span a multitude of disciplines that often intersect with the world of watches – and the obsessive culture behind collecting them.