Horology to me has always been about pushing the boundaries of what came before in order to perfect the art of timekeeping. But what's important to keep in mind is that the means of pushing those boundaries have to be widely available to all and not a few. That's why I firmly believe that solar watches represent the pinnacle of modern timekeeping.
Mechanical watches rely on your to wind the watch – the energy required for the watch to run relies on you. Even with quartz watches, the battery needs to be replaced every 1 – 3 years. A solar watch is designed to run in perpetuity by harnessing free energy from the sun as a light source – energy that has a higher rate of exponential gains than any other type of movement. A few minutes of sunlight can translate to hours of power reserve. You don't always even necessarily need the sun – even an artificial light source can charge the watch.
The Best Solar Watches
Lucky for us solar watch technology has come a long way and there are many options available across a variety of different watch brands. Below we're cataloging the best solar watches available today and they span all design and function spectrums.
Citizen Promaster Diver Eco-Drive
| | |
| --- | --- |
| Case Size: | 43mm x 49mm x 12mm |
| Movement: | Citizen Eco-Drive E168 (Solar Quartz) |
| Solar Charging Time: | 11 Hours |
| Full Charge Run Time: | 6 Months |
| Crystal: | Mineral Crystal |
| Price: | $200 – $300 |
Few watches command as much respect at the Citizen Promaster Diver Eco-Drive. This watch alone is one of our most recommended affordable and truly "go anywhere, do anything" divers. Originally released in 2015, the BN0151-09L (blue dial) and BN0150-10E (black dial) were introduced as part of the Citizen Promaster Diver line. Over time have gained their place of recognition and have helped establish the Japanese watch brand as a mainstay in solar powered horology.
Coming in at 44mm in diameter and featuring a very solid and rounded edge design, the stainless steel case is designed to sit firmly on your wrist. But it's also designed in such a way where wear-and-tear over time will only enhance its aesthetic features. The bezel features the unique Citizen design trope of including alternating bezel teeth, which helps tone down the potential aggressive impression of the design while also creating a memorable design feature. You'll notice also how the indices are applied and feature strong lume, which really promotes strong legibility.
This is also an ISO-certified diver which means it conforms to the standardizations of features and functionalities required by the International Standardization Organization (ISO) to be considered a true dive watch.
This Citizen solar dive watch is powered by the Eco-Drive E168 movement, which features 6 months of power reserve. With approximately 11 hours of accumulated sunlight on the dial's solar panel, the watch will reach it's full power reserve. This means that if you get 30 minutes of direct sunlight here – maybe 1 hour over there, it all adds up to the total number required for the solar movement to fully charge.
Casio G-Shock GW6900-1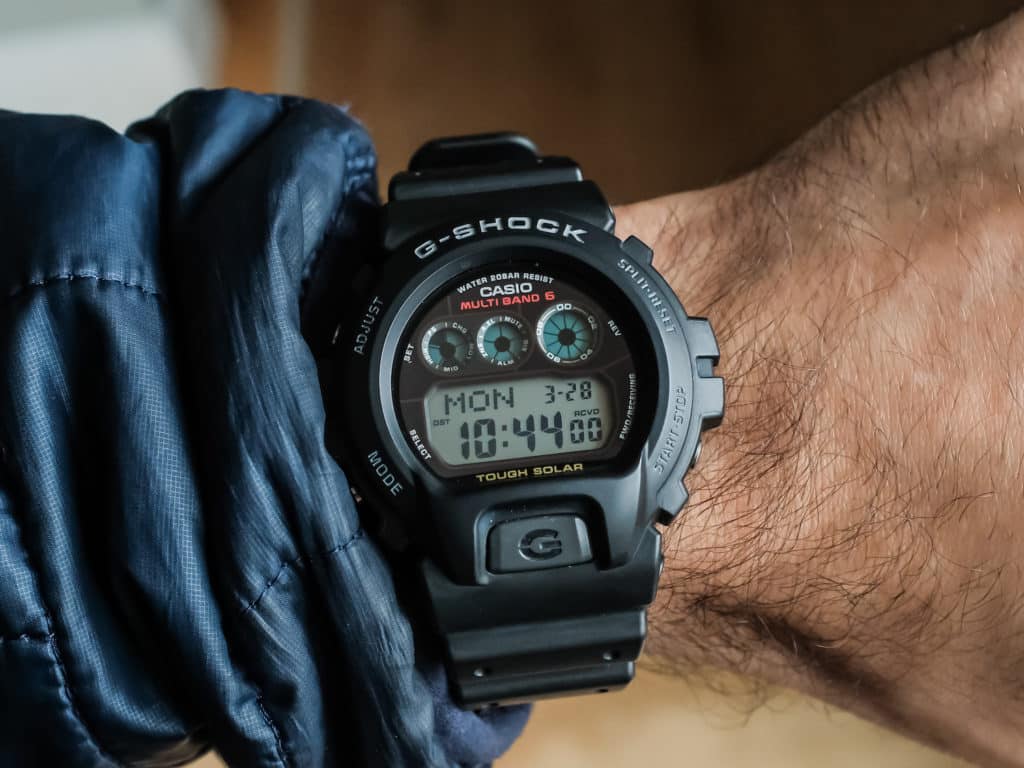 | | |
| --- | --- |
| Case Size: | 50mm x 53.2mm x 17.7mm |
| Movement: | G-Shock Module No. 3179 (Solar Quartz) |
| Solar Charging Time: | 5 Hours |
| Full Charge Run Time: | 9 Months |
| Crystal: | Mineral Crystal |
| Price: | $80 – $140 |
First introduced in 1983, G-Shocks have often been the unsung heroes of reliability, functionality, and the true spirit of a no-nonsense shock-resistant watch. If that wasn't enough, the G-Shock Tough Solar movement was added to the product line in 1998. Ever since then, G-Shocks have presented themselves as ideal and ubiquitous solar watches for those who were looking for something with a bit more of a sporty design leaning that can handle most anything you throw at it.
A long standing icon in the G-Shock Tough Solar Watches product line up is the GW6900-1 digital watch, which features one of the brand's most classic and accessible design iterations. A rugged but restrained 50mm diameter resin case features 4 pushes that control a myriad of functions like world time (31 time zones), auto calendar (to 2099), 1/100 stopwatch, and way more than I can possibly mention in our discussion.
The GW6900-1 is powered by the G-Shock Module No. 3179 Tough Solar quartz movement. On a full charge from the sun, the watch has a power reserve of 9 months and it's also technically radio-controlled. This means that the digital watch operates on atomic timekeeping which is a standardized measurement of time synchronized across several radio facilities across earth which are coordinated by the earth's revolutions around the sun. It's generally considered the most accurate measurement of time available today. As long as you're on a continent with one of the atomic time radio facilities, the GW6900-1 will ping the tower to keep itself in synchronization with atomic time.
Casio G-Shock GWM5610-1
| | |
| --- | --- |
| Case Size: | 43.2mm x 46.7mm x 12.7mm |
| Movement: | G-Shock Module No. 3495 (solar quartz) |
| Solar Charging Time | 10 hours |
| Full Charge Run Time: | 10 Months |
| Crystal: | Mineral Crystal |
| Price: | $100 |
Featuring many of the same functionalities as the GW6900-1, the G-Shock GMW5610-1 digital watch is a more nuanced option for those who are interested in a G-Shock but with a bit less of a sport watch design (while maintaining the iconic G-Shock shock-resistance). The square case in conjunction with the vented resin band create an aesthetic that's actually a bit more retro than anything else. That's why the GMW5610-1 is an excellent choice for anyone who wants the benefit of a solar watch with the everyday wearing experience of a classic retro icon.
The power reserve on the G-Shock Module No. 3495 is approximately 10 months and with a very tasteful case size of 43mm x 46.7mm, this watch will most likely become your daily wearer.
Seiko Prospex SNE Solar 38mm
| | |
| --- | --- |
| Case Size: | 38mm x 46mm x 11mm |
| Movement: | Seiko V147 (Solar Quartz) |
| Solar Charging Time: | 10 Hours |
| Full Charge Run Time: | 10 Months |
| Crystal: | Sapphire Crystal |
| Price: | $260 – $495 |
If you're in the market for a solar watch that's a diver and also features more classic dive watch characteristics, the Seiko SNE 38mm sounds like it may be a great fit for you. What we found most impressive about these pieces is their ability to combine a smaller wearing experience and the robust reliability you'd expect from a Seiko Prospex piece. The wristwatch features a classic Seiko dial with dot lume makers, a lume triangle at 12 o'clock, and iconic Seiko diver hands. The screw down crown and caseback are also facilitating the 200 meters of water resistance here, which is suitable for most types of water submersion and diving activities.
The Seiko SNE 38mm is equipped with the Seiko V147 solar quartz movement, which features an excellent accuracy rating of -/+ 15 seconds per month. The watch is also rated to reach a full charge with approximately 10 total hours of sunlight and that full charge gives the Seiko SNE 38mm a power reserve of 10 months. So if you get 20 minutes of sunlight here then maybe an hour or two here – overall it adds up and you shouldn't have any issue keeping the watch charged.
The one con that owners sometimes share here is that since the stainless steel watch case is 38mm with a dive bezel, that the actual dial size is quite small. So if you're in a scenario where you sometimes have difficulties reading smaller dials, this may not be a good fit for you.
Citizen Eco-Drive Avion
| | |
| --- | --- |
| Case Size: | 45mm x 52mm x 12mm |
| Movement: | Citizen Eco-Drive J810 (Solar Quartz) |
| Solar Charging Time: | 30 Hours |
| Full Charge Run Time: | 8 Months |
| Crystal: | Mineral Crystal |
| Price: | $80 – $145 |
If a classic but casual timepiece that features a fresh take on an aviation dial with a slight nostalgic design lean is more your style, you should consider the Citizen Avion. We found the overall wearing experience to be slightly on the larger side so this would be a good fit for someone with a larger wrist. But the clear design inspiration from classic aviation watches makes this more of an aviation inspired watch than a pilot's tool. Especially given the fact that the only lume on the watch is on the hands – there is no lume on the dial. But the 3 concentric scales (minutes, standard hours, military hours) are expertly arranged in order to create an overall impact of something aviation-nostalgic and almost appearing as cockpit instrumentation.
The Citizen Avion features the Eco-Drive J810 solar quartz movement. As far as accuracy goes, the J810 is rated for -/+ 15 seconds per month, which is much better than what most mechanical movements are capable of. Now with a power reserve of 8 months, Citizen reports that the J810 needs an accumulated 30 hours of direct sunlight. While not the best solar charging time of among the watches featured on this list, if you're wearing the Citizen Avion relatively frequently or at least keeping it by a window to grab some sunlight, you shouldn't have any issues keeping your battery charged.
Citizen Nighthawk
| | |
| --- | --- |
| Case Size: | 42mm x 46 x 12mm |
| Movement: | Citizen Eco-Drive B877 (Solar Quartz) |
| Full Charge Run Time: | 6 Months |
| Crystal: | Mineral Crystal |
| Band Options: | |
| Price: | $250 – $400 |
Few watches have become as synonymous with the idea of an affordable modern aviation tool watch as the Citizen Nighthawk. A truly instrumental design approach informs the form-follows-function design language of the dial and the watch as a whole. The case features subtle design queues to draw your eye towards the dial with focus on all of the complications and the scales for the slide rule bezel. Note how the dial elements are arranged in such a way for you to always have an anchor for your eye in the center of the watch where the traditional hour/minute/seconds timekeeping functionality can be found. But as soon as you want to utilize one of the watches many functions, all you need to do is focus slightly away from center and you're good to go.
The slide rule bezel is what makes the Citizen Nighthawk special here and it allows you to calculate the follow items:
Speed In Air (and On Ground)
Distance Between Two Navigational Points
Time Between Two Navigational Distances
Maximum Fly Time
Consumption of Fuel
The Citizen Nighthawk is powered by Eco-Drive B877 solar quartz movement. This is a special category of Eco-Drive movements designed primarily for the Promaster product line and found generally within the Nighthawks. With an accuracy rating of -/+ 15 seconds per month, it should only take about 9 collected hours of direct sunlight to charge the watch to it's full power reserve of 6 months. You'll notice that the power reserve here is a bit shorter compared to other solar watches. That's because since there are more functionalities built into the watch, it takes more energy to power it. This means that the draw on the solar batteries is larger resulting in a shorter power reserve. But even if this isn't your daily wearer, you won't have any issues keeping it charged even if you only wear it a couple times per month.
Seiko Ana-Digi Tuna SNJ025 (The "Arnie")
| | |
| --- | --- |
| Case Size: | 49.5mm x 49.5mm x 14.3mm |
| Movement: | Seiko H851 (Ana-Digi Solar Quartz) |
| Solar Charging Time: | 10 Hours |
| Full Charge Run Time: | 6 Months |
| Crystal: | Seiko Hardlex |
| Price: | $300 – $500 |
This is a very large wearing dive watch. I mean, it has to be given the fact that it's been nicknamed the "Arnie" after being seen on the wrist of Arnold Schwarzenegger in the 1987 film "Predator." Technically the watch is officially classified by Seiko as the Seiko Prospex SNJ025 – it's a Solar Ana-Digi Tuna (meaning it features both a analog (Ana) and digital (Digi) dial display. As such, this is one of the more unique offerings for those who are currently interested in a solar dive watch.
Powered by the Seiko H851 analog-digital solar quartz movement, the "Arnie" has a power reserve of 6 months requiring about 10 total hours of direct sunlight to reach that charge.
Just a heads up, this is really a solar dive watch that's suited for people with larger wrists (or people who enjoy wearing watches on the larger size. Given the nearly 50mm x 50mm dimensions with the 14mm thickness, don't expect this to fit under a shirt cuff.
Seiko Prospex SNE549 PADI
| | |
| --- | --- |
| Case Size: | 43.5mm x 50mm x 11.6mm |
| Movement: | Seiko V157 (Solar Quartz) |
| Solar Charging Time: | 10 Hours |
| Full Charge Run Time: | 10 months |
| Crystal: | Seiko Hardlex |
| Price: | $300 |
So let's say that the previously mentioned Seiko SNE 38mm was too small but then the Seiko "Arnie" SNJ025 was too big. That means the Seiko Prospex SNE549 is right in that sweet spot of being big enough to feel substantial on your wrist but not too big to be distracting (especially thanks to the slim 11.6mm case thickness). This solar diver is one of those timepieces created in collaboration with PADI (the Professional Association of Diving Instructors), which is the diving organization most widely responsible for testing for and distributing diving certifications. Generally, PADI dials offer mainly aesthetic differences fron Non-PADI dials, but it's one of those collaborations that signals to you that this is a serious diving tool (if that's what you need it for).
The dial features an applied chapter ring that features the seconds ticks but also creates a unique raised platform for each lume marker. The effective is that of creating a dynamic presentation to the dial – it's not just a flat dial with markers. There's light and shadow play as well. These subtle aesthetics are also further on display with the red ring detailing on the crown as well as the red hour hand.
The Seiko V157 Solar Quartz chronograph features the standard -/+ 15 seconds per month accuracy rating with a projected charge time of 9 collective hours of sunshine to reach the power reserve of 6 months. Honestly though if you make this your swim watch or even your diving watch, chances are that it will get all the sunlight it needs.
Orient NEO 70s Solar Chronograph
| | |
| --- | --- |
| Case Size: | 42mm x 48 x 11mm |
| Movement: | Orient KBS00 (most likely a Seiko V175 Solar Quartz movement) |
| Solar Charging Time: | 5 Hours |
| Full Charge Run Time: | 6 Months |
| Crystal: | Mineral Crystal |
| Price: | $250 |
The Orient NEO 70s product line isn't very popular in the United States, which is a shame. The collection is designed to evoke a refreshed and playful perspective on iconic watch designs from the 1970s. My personal Orient NEO 70 WV0051TX (aka the Christmas Chrono) comes from this product line. As a while though, there are a wide variety of solar quartz chronographs available in truly unique and fun color combinations. You'll have to do some digging though to find the models online (although you can have some luck on Amazon here in the states).
Generally the chronographs will feature a no-frills almost straight lugs design that opts for simplicity rather than finesse. What the case lacks in individuality the dial makes up for in uniqueness. In the case of my Christmas Chrono, the dial features a pinstripe texture that has a slight alternating stagger to it, which you can see pretty well around the Orient logo. Other dials will have mixed metals, unique color combinations, different types of stripes, ect. Really the fun of the Orient NEO 70s collection is just exploring what's out there and looking for something that catches your eye. Plus these can easily balance the line between being casual timepieces and dress watches very well, especially with swapping in a leather strap.
What's interesting is that Orient labels the movement in these solar chronographs as the Orient KBS00. The problem is that Orient really only deals in their own in-house automatic movements. This means that this is a white label movement from elsewhere. Based on my research and spec comparisons, the KBS00 is most likely the Seiko V175, which is a popular solar chronograph movement featuring a 6 month power reserve that can charged with 5 hours of sunlight in total. The actual solar panels are hidden in the timepieces subdials, which is the reason why it can reach full power reserve so quickly.
Timex Expedition Scout Solar
| | |
| --- | --- |
| Case Size: | 40mm x 49mm x 13mm |
| Movement: | Timex M01K (Solar Quartz) |
| Solar Charging Time: | 5 Hours |
| Full Charge Run Time: | 2 Months |
| Crystal: | Mineral Crystal |
| Price: | $50 – $80 |
Sometimes when you're looking for a solar watch, you just want something utilitarian, functional, and reliable. In essence, you're looking for a field watch. Field watches are minimalist grab-and-go, go-anywhere-do-anything, no nonsense timepieces that are designed to keep up with you and accurately display the time. Few watch collection embody these ideals more than the Timex Expedition Scout Solar. The timepiece features a bead blasted case designed to not be too flashy and to help create a matte appearance – this is further emphasized by the dark grey metal finish on the brass case material.
Legible indices are featured along the outside of the dial's perimeter while just adjacent to that track you'll find a smaller numerals for military time. We found the sizing here to be very smart as well. at 40mm in diameter the watch is small enough to not be too distracting to you while you're wearing it, but at the same time a lug to lug measurement of 49mm with a case thickness of 13mm means that the watch still has enough body to really feel secure and solid on your wrist.
The Timex M01K solar quartz movement is a bit of a mystery since Timex doesn't release a lot of information about it. However it has a power reserve of approximately 2 months according to the product manual and can reach it's full power reserve after receiving 5 collected hours of sunlight. While the power reserve here is the lowest of any watch on this list, if this is your daily wearer, you'll be able to keep the watch charged without any issue.
Citizen Eco-Drive BM8180-03E
| | |
| --- | --- |
| Case Size: | 37mm x 43mm x 9mm |
| Movement: | Citizen Eco-Drive E101 (Solar Quartz) |
| Solar Charging Time: | 12 Hours |
| Full Charge Run Time: | 6 Months |
| Crystal: | Mineral Crystal |
| Price: | $150 – $300 |
If a highly legible solar field watch is your style but maybe you're looking for something on the smaller side, the Citizen BM8180-03E would be a fantastic fit. Featuring a 37mm diameter with a 43mm lug to lug measurement, the BM8180-03E would sit incredibly well on smaller and somewhat flatter wrist types (like mine). This type of fit results in a seamless minimalist wearing experience that allows you to forget you're ever wearing a watch until you need to actually check the time.
Slightly skeletonized hands featuring lume and a bold presence contribute to the overall high legibility of this timepiece. The indices are adjacently flanked by indicator triangles, which helps to draw your eye towards the center of the watch. One of the most interesting features we found on the Citizen BM8180-03E was the three-step knurled crown. This creates a very tactile and easy-to-grip surface on the crown, which is a great functional feature to have when your setting the time. One of the downsides here compared to the other Timex field watch on this list is that the Citizen BM8180-03E features some shiny polished surfaces along the case. While not necessarily a deal breaker, those who are generally in the market for a field watch tend to avoid shiny, polished surfaces. But we always emphasize that you should purchase what you like.
The BM8180-03E has a solar power reserve of approximately 6 months and would most likely need about 12 hours of direct sunlight to reach a full charge.
Seiko Speedtimer Solar Chronograph
| | |
| --- | --- |
| Case Size: | 39mm x 45.5mm x 13.3mm |
| Movement: | Seiko V192 (Solar Quartz) |
| Solar Charging Time: | 5 Hours |
| Full Charge Run Time: | 6 Months |
| Crystal: | Sapphire Crystal |
| Band Options: | |
| Price: | $675 |
Loosely inspired by the original 1969 Seiko Speedtimer, these modern Speedtimer releases were offered with an option of having the watch fitted with a solar quartz chronograph movement. The overall impression of the watch is that of a functional instrument timepiece with a slight design inclination towards something vintage. The bold tachymeter scale on the bezel is what's really emphasizing this timepiece's tool watch roots. The bezel's bold presence is juxtaposed interestingly by the timepieces size at 39mm in a diameter and 45.5mm lug to lug. That should offer a balanced and someone smaller wearing experience than what can usually be expected from chronographs.
The dial layout is pretty typical of a solar quartz chronograph. There's a 24-hour subdial at the 2 o'clock spot, 60 minute totalizer subdial at 6 o'clock when the chronograph has been activated, and real-time running second at 9 o'clock. All of the different Seiko Speedtimer dial options utilize the colors and design queues of the dial layout very well. One downside here is that some of the models feature fuaxtina lume, which is lume that's artificially aged in order to make the watch look older than it is. This is most likely done here in order to pay homage to the original Speedtimer. However not all the models feature it.
The Seiko V192 solar chronograph movement only requires 5 hours of constant sunlight to reach it's fully charged power reserve of 6 months. For those who are interested in chronographs but aren't sure if you want to go all in on a mechanical one, I'll share that I've always had preference for quartz chronographs. Here's why – they rarely break. Mechanical chronographs are very intricately built and feature many movement parts to facilitate the chronograph functionality. More parts means more things that can break. If you're interested in a chronograph and generally tend to steer towards reliable, less fiddly items I'd say go for a solar quartz chronograph like on of these Seiko Speedtimers.
Commonly Asked Questions About Solar Watches
Are Solar Powered Watches Any Good?
Yes – solar watches present an incredible technological achievement as well as high value functionality. The watches are design to draw energy in from exposed light and then to convert that energy into a stored power source. This is as opposed to mechanical watches that need to be frequently wound up or traditional quartz watches that require battery changes ever 1 – 3 years. Solar watches are even very eco-friendly since there's no excess battery waste.
How Long Will A Solar Watch Last?
The power reserve on a solar watch can vary anywhere from 2 – 6 months and sometimes longer. After the power reserve runs out, the watch will need to be recharged.
Do Solar Watches Run Out Of Battery?
It depends – while all solar watches will need periodic re-charging from exposure to light, some solar watches may need a battery replacement at some point in their lifetime. But solar water battery replacements are rare and are only needed if the battery is damaged or if the manufacturer recommends a replacement after a certain set of years.
What Are The Cons Of A Solar Watch?
While solar watches are the near ideal perfection of modern technology-based horology, one con that they face the most is that they aren't mechanically powered, meaning they aren't charged by winding the watch. Some watch enthusiast circles see the lack of being mechanically powered as a con since the watch relies to heavily on modern technology.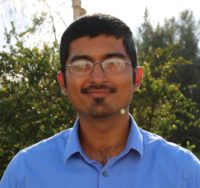 Kaz has been collecting watches since 2015, but he's been fascinated by product design, the Collector's psychology, and brand marketing his whole life. While sharing the same strong fondness for all things horologically-affordable as Mike (his TBWS partner in crime), Kaz's collection niche is also focused on vintage Soviet watches as well as watches that feature a unique, but well-designed quirk or visual hook.