Back in 2017, Seiko* adopted a new strategy that caught a few collectors off guard. It started with the reissue of their 62MAS diver – the Seiko SLA017 – priced at €3,800. To restore balance and avoid an inevitable freak Seiko fan mob attack, the brand also released two "reinterpretation" models at lower price points with the 6R15 movement. The Seiko SBDC051* is one of those models and the topic of today's review. While it is a watch that attracted many to the idea of owning some form of the 62MAS, the watch really did fail to hold my attention overall. However, the model has a great following, excellent features, and amazing value potential. Here's why.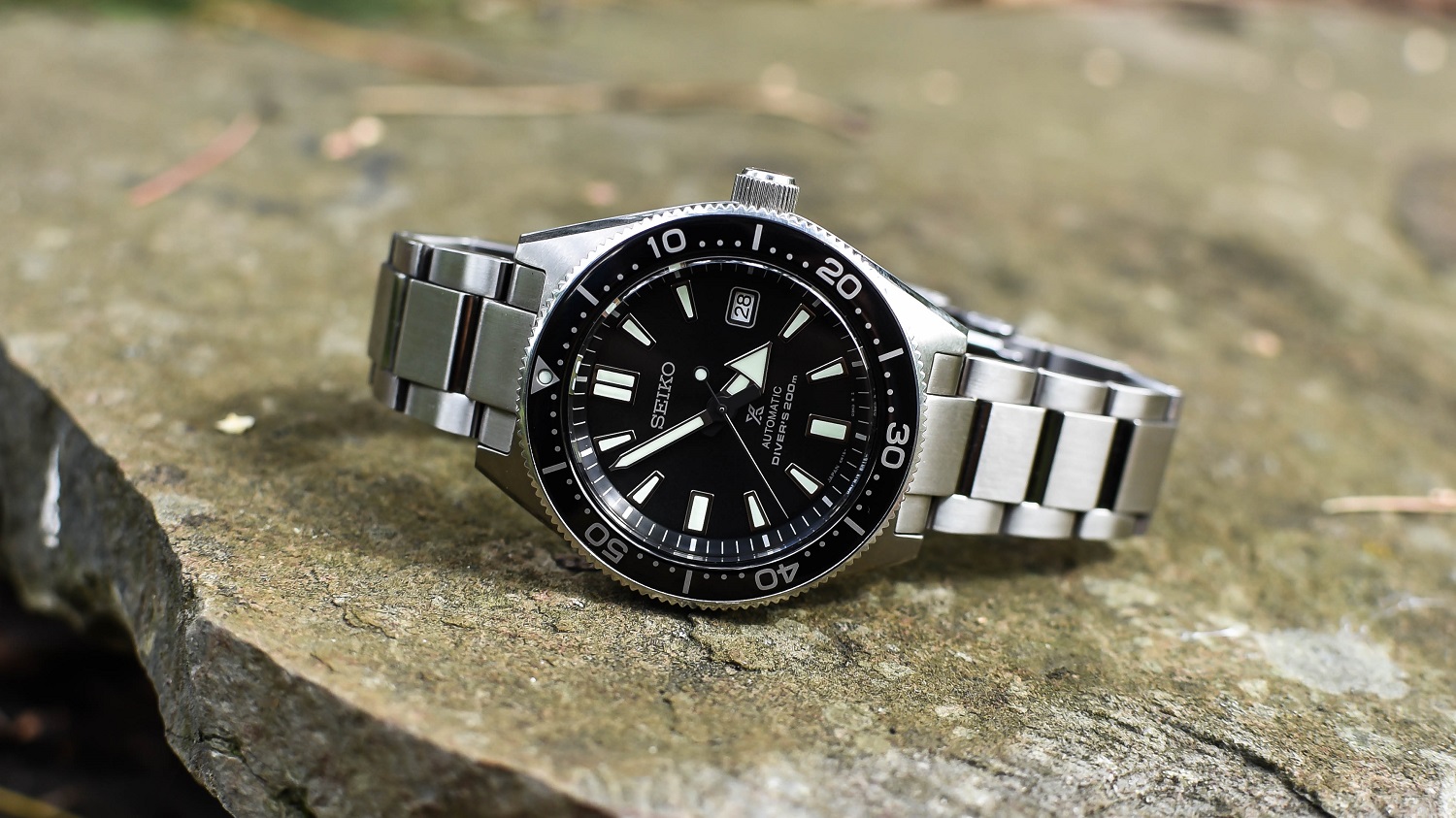 I'd like to start by clarifying that this watch simply isn't for me – but this has nothing to do with build quality or any snobby preference for "the real thing." My time with this watch evolved into a real watch proportion case study, which led me to learn even more about case size and what really works for my wrist. It's the first time that a Seiko felt way too big for me and I think this is important to jot down for anyone with a wrist that's around 6.5″. But, I will say that these reinterpretation watches are some of the most impressively constructed products Seiko has released in a while and perhaps even capable of dethroning the mighty Sumo and Shogun models, which typically come to mind when considering one of their 6R15 divers.
Case
With the help of Seiko's proprietary case hardening, the SBDC051's 42.6mm case delivers one hell of a rugged experience on-wrist. Still, the Zaratsu-polished case accents balance the look with a touch of refinement – a reminder that you're slowly climbing into Seiko's mid- to high-end catalog. At 13.8mm thick, it's also reasonable for a modern diver. I didn't accidentally catch the watch on anything throughout the day and if you like the feel of a substantial watch on-wrist, you'll definitely get it with the SBDC051. The unsigned screw-down crown helps out with 200m of water resistance and the watch's lug-to-lug measurement is 49.5mm.
Part of what makes me feel like this watch doesn't work for me is the lug design, which could have twisted or tapered a little more generously. I did also take issue with the case and bracelet finishes slightly colliding at the lugs. Hilariously, this has also been a complaint people have vocalized when evaluating the pricier SLA017. I wish I had the chance to review this watch side by side with the blue-bezel version, the SBDC053 that comes on a rubber Seiko wave strap.* The burly case and lugs probably translate a little better with a rubber strap. Speaking of bezels, the action on the 120-click unidirectional dive bezel was sublime, accurate, and easy to use. It has a nice, glossy finish to it (probably topped with mineral glass) and transitions beautifully into the domed sapphire crystal perched over the dial.
Dial
It's here where we really start to see the true Seiko value proposition. On the dial side, we get a deep black sunburst finish that reacts playfully with ambient light without affecting legibility. Seiko also adds in a set of applied hour markers, a ton of Lumibrite, and a tastefully implemented date window at 3 o'clock. Dial text nerds are still moaning about the Prospex 'X' at 6 o'clock, but this has never bugged me and I almost enjoy the reminder, to be honest. The best part? Even though the dial clearly pays homage to the original 62MAS Seiko managed to really modernize its look, and a big part of that execution is the handset, which I've also grown to love.
Commonly referred to as "Monster hands," the handset on the Seiko SBDC051 fits well in terms of utility and proportion. It's almost impossible to mix up the time and the drastic size difference between the hour and minute hands almost reminds me of the way the hands are sized on something like a Doxa Sub 300. I do however wish the seconds hand wasn't so puny. Maybe it's just me, but topping it off with some iteration of a paddle seconds hand would have been a nice approach and another fair nod to the original 62MAS.
Bracelet
This bracelet definitely takes things a step further compared to the most common entry-level Seikos and to be fair, it's super comfortable even if I wasn't a fan of the look. It's well sized at 20mm, feels like it tapers slightly, and features a rock-solid milled clasp. The rest of the clasp is really familiar if you're a Seiko fan. The links also appeared slightly angled and staggered, which adds a sense of dynamic to the overall look. Honestly, no complaints here other than the fact that Seiko could have been a little cleaner about the way the bracelet meets the case.
Movement
Another fun feature was the 6R15, which appears to be disappearing from more and more collections each year. As usual, there were no issues with operation, time-setting, or accuracy. For the uninitiated, the 6R15 features both hacking and hand-winding, operates at 21,600 bph, and boasts a 50-hour power reserve. A true equal when compared to the ETA 2824, the 6R15 is a solid choice for Seiko's dive watches living in this price range.
Final Thoughts
Most of what this watch is, absolutely works – just not for me. There's no getting around the fact that the features and specs are spot on and plenty of people will enjoy them for decades to come. But if I'm squeeking into Seiko's $1,000+ range, I need things to be pretty close to perfect at least on-wrist. I envy the guys and gals that can pull this watch off, but like the Samurai, it just doesn't cut it in terms of proportions.


Still, I'd gladly recommend the SBDC051 to anyone seeking a slightly more premium Seiko Prospex experiece that isn't something like a Sumo or Shogun. Price for the Seiko SBDC051 is listed as $1,000 on the Seiko Prospex site. Seiko but you can also find it for hundreds of bucks less on Amazon*.

Michael Peñate is an American writer, photographer, and podcaster based in Seattle, Washington. His work typically focuses on the passage of time and the tools we use to connect with that very journey. From aviation to music and travel, his interests span a multitude of disciplines that often intersect with the world of watches – and the obsessive culture behind collecting them.