We tend to be pretty dismissive and downright snarky over here at Two Broke Watch Snobs – especially when it comes to pseudo-glorified "horological rites of passage." Everyone needs a Rolex? No, shut up. Breaking $1,000 is something everyone needs to do? Nonsense. There's a grail that every watch purchase is building up to? …Well now that one is complicated for me.
Before I would have said the idea of a "grail" built on the backs of many other watches that just always kinda missed the mark was total bullshit. But the truth is that ever since I got hooked into horology there was one brand that had always captured my attention. One watch brand that always seemed out of reach and resulted in many purchases being considered/made in an effort to scratch an itched caused by the ONE brand. Damn you, Grand Seiko.
From the very first day I learned about Grand Seiko watches, I was obsessed with this notion that every watch I ever got was only ever leading to me getting a GS. It's a sentiment I've shared on the show, contradicted, then re-validated, then probably contradicted again – if that doesn't emphasize my struggle with this concept I don't know what will. Isn't it totally unfair to think of every watch until your grail as a throwaway purchase?
Finally being in a position to get this Grand Seiko grail allowed me to really take a look back on how my collector's journey has progressed and to maybe try to get insight on how I want the future of how I collect to look. But first, let's talk about the watch.
The Grand Seiko Quartz Movement
You're damn right this is a quartz watch and I'm starting my review with that fact because the quartz movement is the reason I wanted a Grand Seiko. Originally I wanted a Grand Seiko Spring Drive. Then I toyed with the notion of a mechanical watch (or a GMT). Eventually I realized that the 9F quartz movement was for me.
Quartz watch snobbery is never going away – we're always going to hear crap like "Mechanical movements just feel more real." There are good mechanical movements and bad mechanical movements – just like there are good quartz movements and bad quartz movements. The choice between a quartz movement or a mechanical movement should have nothing to do with how much you want to prove to someone else how into horology you are.
That said, the in-house 9F quartz calibers from Grand Seiko are easily in the top 3 FINEST quartz movements in watchmaking production today (for those curious, I'd throw the Citizen Chronomaster Quartz Movements and the Breitling Thermocompensated SuperQuartz movements into that mix as well). My Grand Seiko SBGV233 features an older 9F82 quartz model (3 hander). The updated version of this movement is the 9F85 and is basically the same but features an independently moving hour hand.
Accuracy on this Grand Seiko quartz is +/- 10 seconds per year, meaning its basically the most accurate thing in my house next to my cell phone (which doesn't count). So what actually makes the 9F quartz movement in my SBGV233 special? Here's some insight:
The quartz movement can be regulated


Mechanical watches can be regulated and adjusted to compensate if they start to beat too fast or too slow. Most quartz watches can't be regulated due to the simplicity of their construction and the nature of their longevity. The Seiko 9F quartz is one of the exceptions to this situation. The sealed quartz movement features a regulation switch, allowing service techs to tweak the mechanism to maintain the quartz movement's high accuracy.
Wait - sealed quartz movement?


Oh yea, the critical components of the movement are sealed in dust-proof enclosures. This helps keep the intricate parts of the watch clean while also sealing in the vital lubrication to keep the interior moving components healthy and friction-free
Second hand backlash compensation


Alright, this one is frivolous but still badass. You ever see on a quartz watch how the second hand bounces when it ticks? The Grand Seiko 9F quartz movement doesn't do that. Due to the "Backlash Auto-Adjust Mechanism," which is essentially a hairspring that affords enough resistance against the counter-bounce of the second hand to stabilize it as it ticks forward. Unnecessary… but still very cool.
Hyper time adjustment precision


As if everything else this movement does isn't enough, the 9F quartz empowers you to keep your watch as precise as possible by allowing a full rotation of the crown to only advance the minute hand 20 minute. This is in contrast where other quartz watches allow a full rotation to advance the entirety of the dial at 60 min. By scaling back the minute hand advance from crown turning, you can hone in on the exactly minute markers you want to with steadiness.
There are many other reasons to love the 9F quartz movement, so I encourage you to check out Grand Seiko's page on it. Also, projected battery life of the Grand Seiko 9F82 is 3 years.
Grand Seiko Heritage Collection Case Design
Plain. That's what non-watch folks say when they first see this watch on my wrist. And you know what? That's the point!
The Grand Seiko Heritage collection embodies a design ethos of balance without succumbing to design trends. The only changes you'll see among case shapes in the Heritage collection will be subtle and are usually informed by needing to accommodate changes/advancements in the movement technology – check out this interview with Grand Seiko designer Nobuhiro Kosugi.
The Grand Seiko SBGV233 measures in at 40mm in diameter, 46mm lug-to-lug, and 10mm in thickness. It also features 100M of water resistance. On my 6.5 inch wrist the dimensions are spot on for what I was looking for – a balanced, under-the-radar, slightly dressy everyday watch. The 10mm thickness also allows me to easily fit it under a shirt sleeve if need be.
The lugs feature a very organic and subtle curve that only just begins to dips healthily below the actual caseback. The effect is that for folks with flat wrist-tops (like me) or those with more rounded wrists, the wearing experience will still feel incredible balanced and comfortable.
The case sides, adjacent bevel, and top-facing fixed bezel feature a beautiful high polish finish with strong clarity that doesn't overpower any other element of the watch (you know how sometimes a watch can be too shiny? That's not happening here).
The top part of the case between the case bevel and the fixed bezel features a brushed matte finish which serves to visually anchor the watch incredibly well. The combination of polished and brushed features on the titanium material serve to bring many complex and methodical design choices together to create a very elegant and balanced design ethos.
Oh yea that's right – this Grand Seiko timepiece case material is titanium, which offers less weight, strong scratch-resistance, and better durability than stainless steel. But there are some drawbacks to titanium timepieces.
Some Unexpected Bracelet Setbacks
Much like the case, the bracelet on this Grand Seiko quartz features a tasteful combination of polished and matte brushed finishes. While execution of these elements isn't necessarily as design-nuanced as the case, the bracelet achieves it's ultimately goal of simply being comfortable and timelessly beautiful. 
The clasp construction is as high quality as one would expect – the finest details of the titanium material have been fashioned very well and the mechanism operates cleanly. There are no microadjustments, however there are enough links and half-links for you to find the perfect sizing.
With all of these top quality features at play with the bracelet, I'm left contemplating one of the more negatively surprising features of the watch. These aren't screw links – these are pin and collar. Which in the grand scheme of things isn't a big deal, but for me I'm not the most careful person when it comes to sizing a bracelet. The whole hammer + pin tool thing has never worked for me.
I actually had to buy a new pin removal tool that looks like a medieval finger torture device – and honestly I should have purchased this tool a long time ago. I (mistakenly) assumed all Grand Seiko models featured screw links. So whether you're considering this model or possibly another one, just be sure to double check the link situation.
The other word of caution here is that while the titanium material of the watch is beautiful and basically scratch resistant to everything in my home, it's not scratch resistant against itself! Little scratches began to appear pretty quickly within the clasp where titanium meets titanium (which you can see in the photo above). It's not a big deal for me since this constitutes normal wear but I just wanted to call it out so no one was surprised.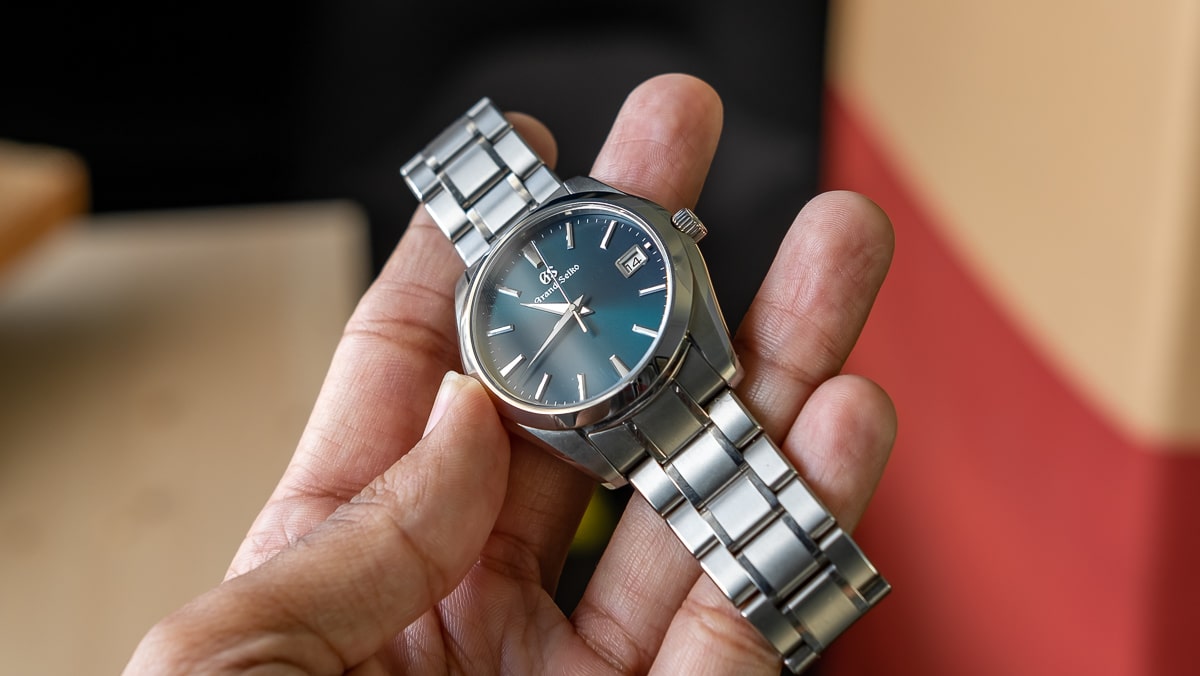 Grand Seiko Quartz SBGV233 Dark Teal Dial
If you're a fan of TBWS you know I have an incorrigible horological kink for all things teal. So when I set off on this journey of finally finding a Grand Seiko Quartz 9F series that really hooked me, obviously it was going to be this one.
The dial features minimal detailing with a simple "GS" logo (in a slight pale gold hue) and "Grand Seiko" directly beneath it in a muted silver color. The markers are simple bar markers that feature sharp geometric shaping with a clean polish, reflecting light across them for strong legibility and visual beauty (sometimes for fun I just roll light off the dial to watch it move). The sapphire crystal also helps boost the clarity and legibility of the dial.
Substantial but appropriately sized dauphine hands create high contrast against the teal dial. This legibility-contrast is also informed by the fact that the beveled, shaped edge of the hands are high polish while the largest surface area of the hand facing the user is matte brushed. The date display also features this interplay between finishes. I love seeing the high textured matte brush finish blending into high polish finish – this watch achieves that to near perfection.
The dark teal color of this dial is quite remarkable – more so than I was anticipating. Rather than just being a flat, non-polished hue or a high-polish shiny surface, the watch somehow achieves both. When light hits the dial it catches into brilliant radial polishing but it never gets too bright to the point of looking "blingy." This teal color is something I've only ever seen on this Grand Seiko model, which is a Japanese Domestic Marketing only release.
Grail Achieved..?
I started this review out talking about grails and my high-value "pie in the sky" view of Grand Seiko.
This is a grail for me, but what I realize now after pining over this watch for so long is that my horological journey wasn't a set of boxes that needed to be checked off. My horological journey represents a constant changing perspective and a perspective that's only unique to my personal experience. And my personal experience is informed by every single watch I've ever owned.
After spending nearly a year with this watch I will confidently state this: if I got this watch back when my love for Grand Seiko was first sparked, it would have been wasted on me. There's no way I could love this watch as much as I do unless I got to experience all the other watches that have been in my collection.
However that idea in my mind is able to also sit along side the notion that all the watches I've ever had (those that are still with me and not with me) are still appreciated and cherished. There's an odd thing that watch collectors do where they tend to shun the "cheap" watches that initially got them into watch collecting. We need to stop that. If your grail can't live in the same collection as the timepieces that first got you started then you may need to re-evaluate things.
My Grand Seiko lives right next to my Seiko SNK807, my first watch purchase ever. I had to grow into the type of collector who would truly appreciate this watch. Your grail is supposed to be a celebration of how you've grown as a collector and I couldn't think of any other watch to represent that for me that my Grand Seiko 9F Quartz SBGV233.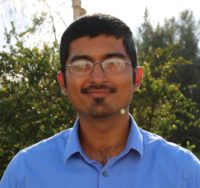 Kaz has been collecting watches since 2015, but he's been fascinated by product design, the Collector's psychology, and brand marketing his whole life. While sharing the same strong fondness for all things horologically-affordable as Mike (his TBWS partner in crime), Kaz's collection niche is also focused on vintage Soviet watches as well as watches that feature a unique, but well-designed quirk or visual hook.