The Christopher Ward C65 Dartmouth is one of a trio of new pieces in the British brand's military collection. The Dartmouth is named after the British Naval Academy, and its siblings (the Sandhurst and the Cranwell) are named after the academies for the Army and Air Force, respectively. All three are built upon Christopher Ward's excellent C65 platform, with the Dartmouth and Cranwell coming in at 41mm and the Sandhurst at a slightly more modest 38mm. All three boast chronometer grade Sellita SW200-1 movements, and all three have a similar case height of about 11.6mm.
Beyond this, however, these Christopher Ward models begin to differ somewhat. This watch review will focus on the Dartmouth with steel bracelet, a diver based on the UK MOD (Ministry of Defence) 0552 specs of the 1960s.
A Quick Note on Packaging
Packaging and accessories are one of the crucial ways for watch brands, especially online brands like Christopher Ward, to differentiate themselves. Plus it's crucial in the end-consumer experience while also playing a big role in shipping, storage, and other costs. The Dartmouth comes in a nice presentation box that Christopher Ward calls their "eco-friendly luxury presentation case". It's a nice, solid-feeling wooden box with a soft touch cover that slides onto the rest of the box and holds together with magnets. The magnets are strong enough to hold things together but seem to be weak enough not to impact the watch movement (phew) and it does add a nice touch of luxury to the whole thing.
I do wish, however, that instead of a big wooden box, Christopher Ward would consider something with a bit more reusable potential; for instance, many microbrands are shipping watch rolls or pouches in lieu of fancy boxes. While these give less of a luxurious feel, these touches are more thoughtful and certainly much more handy to me. That said, as watch boxes go this one feels really good, is clearly well-made, and is definitely a step up from the brand's older packaging situation.
Hands and Bezel: Something Old, Something New; Something Borrowed…
The hand set is a mixture of old standbys for Christopher Ward, with a baton-shaped minute hand that is a trademark of the C65, but an elongated hour-shaped arrow hand from the C60 Pro. This makes it ridiculously easy to tell the two hands apart, and the long, narrow arrow shape is very satisfying to the eye, matching the triangles on the dial and bezel. It does this without being overpowering like some broad arrows can be at times. Unlike the majority of the C65 line, the lume on the hands is a white TC-1 Superluminova instead of Old Radium "fauxtina".
It's a great choice that makes everything look fresh and new, though the luminosity itself isn't really anything to write home about in terms of brightness. That said, it seems to hold a dim charge for a fairly long time which is probably handier for diving anyway. The Christopher Ward Dartmouth's spear-shaped seconds hand is borrowed right out of the Seamaster playbook; it's also painted white, while the other hands are polished metal. The 120-click unidirectional bezel has an aluminum insert in a blue that's ever-so-slightly darker than the dial.
The thin C65 bezel looks as fantastic as always here and the bezel action is very good. Christopher Ward spent a lot of time trying to create a great bezel feel and it certainly shows here, as it remains one of the nicest bezels out there in the sub-$1000 range (which this watch hits on a strap or with one of the many coupon codes that Christopher Ward tends to put out there).
Dial: Something blue
Right away, the Dartmouth gives off vibes reminiscent of the Omega "Big Triangle" Seamaster 300. This is no accident; in fact, the resemblance is called out on Christopher Ward's own website. That particular Seamaster was based on the same Royal Navy 0552 spec from which the Dartmouth draws inspiration; the range of CWC divers, including the quartz 1983 reissue, also follow this spec. The Dartmouth has the same luminous triangle at 12, with narrower trapezoid-shaped indices (Christopher Ward calls them "wedges") at the other hour markers.
All the markers are applied and surrounded by a nice polished frame that adds a lot of depth to the dial. The TC-1 lume doesn't come up as high as the frames, resulting in a sandwich dial-like effect that is very satisfying. The dial itself is a matte blue, not quite a deep navy but also much darker than a bright royal blue. Christopher Ward's logo has changed style and positions a whole bunch of times, and this time it has been moved back to 12 o'clock.
I believe this is the first time that this newer sans serif logo has been placed there and it works really well. At 6 o'clock are just two words: "Automatic Chronometer", which clearly denotes the main differences between this watch and the mainstay C65s while also offering austerity and symmetry to the dial that has always seemed to evade Christopher Ward until now.
The dial is striking in its simplicity but also quite stunning with its depth and mix of textures and finishes. I daresay this is the most beautiful Christopher Ward watch that I've yet seen.
Movement: The COSC of doing business
As aforementioned, the Military Collection watches all feature COSC rated Sellita SW200-1 movements. These stalwart Swiss movements tick at 28800 beats per hour and sport 38-hour power reserves, which make them great everyday wearers. But since they'd need winding every day and half or so, they are somewhat less desirable when worn in multi-day rotation (as they'd need winding every day and a half or so).
Interestingly, even though the watches have solid screw-down casebacks, the movements are still decorated with Christopher Ward's flag motif. COSC certification means that the movement is certified to operate within -4 to +6 seconds per day; I threw mine on my time grapher and it showed the watch ticking at +3 in the up position, and a surprising 0 seconds' daily variance in most other positions. Not bad! Not much else to say here other than the fact that the date function has been removed from the movement, which means no phantom crown position. This is a nice move by Christopher Ward and again underlies the quality and attention to detail prevalent throughout the piece.
Case: Hello, ladies
Like fellow British product Stephen Merchant (creator and star of the far too short-lived series "Hello Ladies" among many, many other credits), the C65 Dartmouth's case is thin, quirky, and utterly delightful. The height of this 41mm watch is only 11.55mm, with some of that height coming from the box sapphire crystal, making it 0.05mm thinner than the 38mm Sandhurst and a real delight to wear. With a fairly modest lug to lug at just over 47mm, the Dartmouth should fit a wide variety of wrists quite well. Unlike the many slab-sided divers out there in the market from far more vaunted (and expensive) brands, the C65 case sports a lot of interesting edges and a mix of brushed and polished cases that make it pretty obvious why Christopher Ward has branded them "light catcher" cases. The solid caseback has the Royal Navy's crown insignia stamped in deep detail, and like the dial, the caseback itself reveals a bare minimum of information: just the Royal Navy 0552 spec, the fact that the watch is Swiss Made, the case material (SS Steel), and the depth rating (15 ATM, or 150 metres).
The Dartmouth tops out at 150 metres due to its quirkiest feature, an oversized push-down crown. For most C65s, this sort of makes sense, as the majority of these divers feature hand-wound SW210 movements. It's a bit weird, however, for an automatic diver to sport a push-down crown, but 150 metres should be plenty for most people and the whole thing looks fantastic, with a nice Christopher Ward flag motif signed on the crown itself and no crown guards, continuing to accentuate the vintage vibe. This is a case design that is as eye-catching as it is light-catching, and for most of us desk-diving divas out there, the push-down crown just makes the watch easier to wind and get going. If you do plan on taking this watch into the ocean, it might be worth getting the watch depth tested from time to time just to make sure the gaskets are doing their job as that's all that is protecting this watch from a waterlogged fate.
One nitpick that I have is that, for a vintage-styled tool watch, this piece lacks drilled lugs, which are a great convenience. However, the thinness and chamfering of the lugs would probably make drilled lugs impossible, and the inconvenience is mitigated with a nifty bracelet feature which I'll explain in the next section.
Bracelet: Cost-cutting comfort
The bracelet that comes with the Dartmouth is a standard Christopher Ward C65 22mm bracelet. It's an oyster-style bracelet with a two millimeter taper, so at the clasp the bracelet is 20mm wide. This is fine and adds to the comfort of the bracelet somewhat, though it would be great to see a more aggressive 4mm taper for even greater comfort. The clasp is a bit larger than I'd generally prefer, but it includes a nice ratcheting tool-free micro-adjust that allows the user to dial the bracelet size up and down by about 8mm in 2mm increments. It's a nice feature that reminds me of the system that Omega deploys in some of its divers, and it's great to see on this fairly budget-friendly piece.
The bracelet also includes a quick release system, allowing the user to remove the bracelet and put on a strap without the need for any tools (assuming the strap has quick-release spring bars, naturally). This is another great and convenient feature, and the mechanism seems quite sturdy and easy to use. It also makes up for the lack of drilled lugs on the case, which is a win all around.
The only complaint that I have is that the pin and collar system for adding and removing links is a huge pain. It has me longing for the screw-down pins that have become common even at lower price points. However, I can see the logic of saving some cost on the link removal system and applying those savings to the clasp and quick release systems; after all, once a bracelet is sized it shouldn't really need resizing very often if at all, whereas a clasp adjustment and strap change are both much more frequent activities.
Conclusion: Great Option, If You Can Set Your Mind At Ease with That Push-Down Crown
The C65 Dartmouth is a really nice watch. It's got a versatile size, great vintage-inspired yet clean and modern looks, a solid COSC-certified movement, and a high quality bracelet, all for an MSRP of $1,020.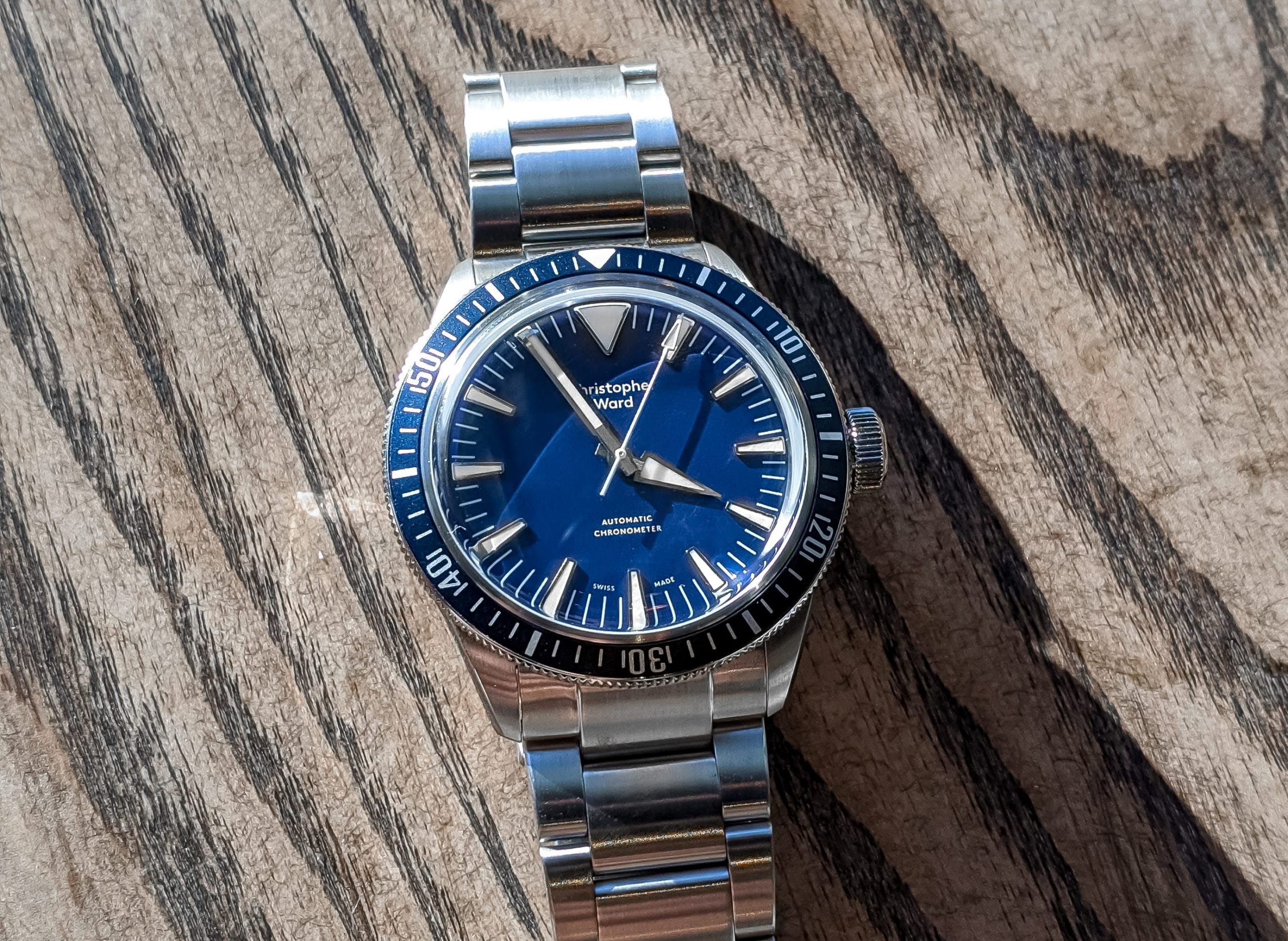 Note that Christopher Ward tends to put a fair number of promos out into the world, so it shouldn't be too hard to drive that figure down into the triple digits. For that price point you get pretty astonishing value that's frankly tough to beat. One competitor that comes to mind is the Mido Ocean Star; the Mido offers a titanium case, Powermatic 80 movement with silicon hairspring, day-date functionality, and a bit better depth rating at 200m with a screw-down crown (but slightly worse wearability and, to me at least, a lot less aesthetic charm, which certainly counts for a lot in my book).
Indeed, the charm is absolutely the kicker with this watch; Christopher Ward has always offered great quality and value, but with the Dartmouth it has delivered arguably its best looking diver here, and one with connections to the legendary Royal Navy. The push-down crown might be a deal breaker for some, but for everyone else this is a serious contender to be one of the absolute best at this price.
Check it out on the official Christopher Ward site.
Christopher Ward C65 Dartmouth
41mm x 47mm x 11.55mm
Sellita SW200 COSC

28,800 VPH
-4/+6 sec/day
38h Power Reserve

150 Metres Water Resistance
T-C1 Super-LumiNova
Sapphire Crystal
22m Lug Width
Ever since his first watch, a talking Dick Tracy thing won in a local chicken impersonation contest at age five, Aggressive Timing Habits has been fascinated by all watches from Amphibias to Zeniths and the people who create and collect them. His contributions to TBWS represent a new outlet to discuss the miracle of drilled lugs and debate the virtues of balance bridges vs balance cocks, much to the relief of friends and loved ones.