Soviet Watch eBay Listings Round Up #2:

A Tale of 3 Vintage Vostoks
By: Kaz Mirza
An Authentic, Early Generation Scuba Dude…? (eBay ID: 123256664595)
The Vostok Scuba Dude dial has become one of the more iconic dial variations offered by the brand (next to the Ship's Wheel). As a result, it's extremely sought after and a lot of the newer Vostok Amphibia that are purchased are usually Scuba Dudes. But there exists a subset of the Scuba Dude that I've personally been investigating for a while and (like most aspects of USSR watches) it's proving slightly difficult. What were the first and earliest Vostok Scuba Dudes?
Within USSR Watches a clear delineation between Pre-Soviet Union Collapse and Post-Soviet Union Collapse has to always be noted. And seems as if the Scuba Dude dial really started gaining popularity after the collapse of the USSR. However, the dial variation was in production and floating around prevalently before The Fall and during the 80s. It was just one of many different graphic and military-esque inspired dial variations at the time (other's included the Komandirskie Tank, Komandirskie Paratrooper, and Radio Room).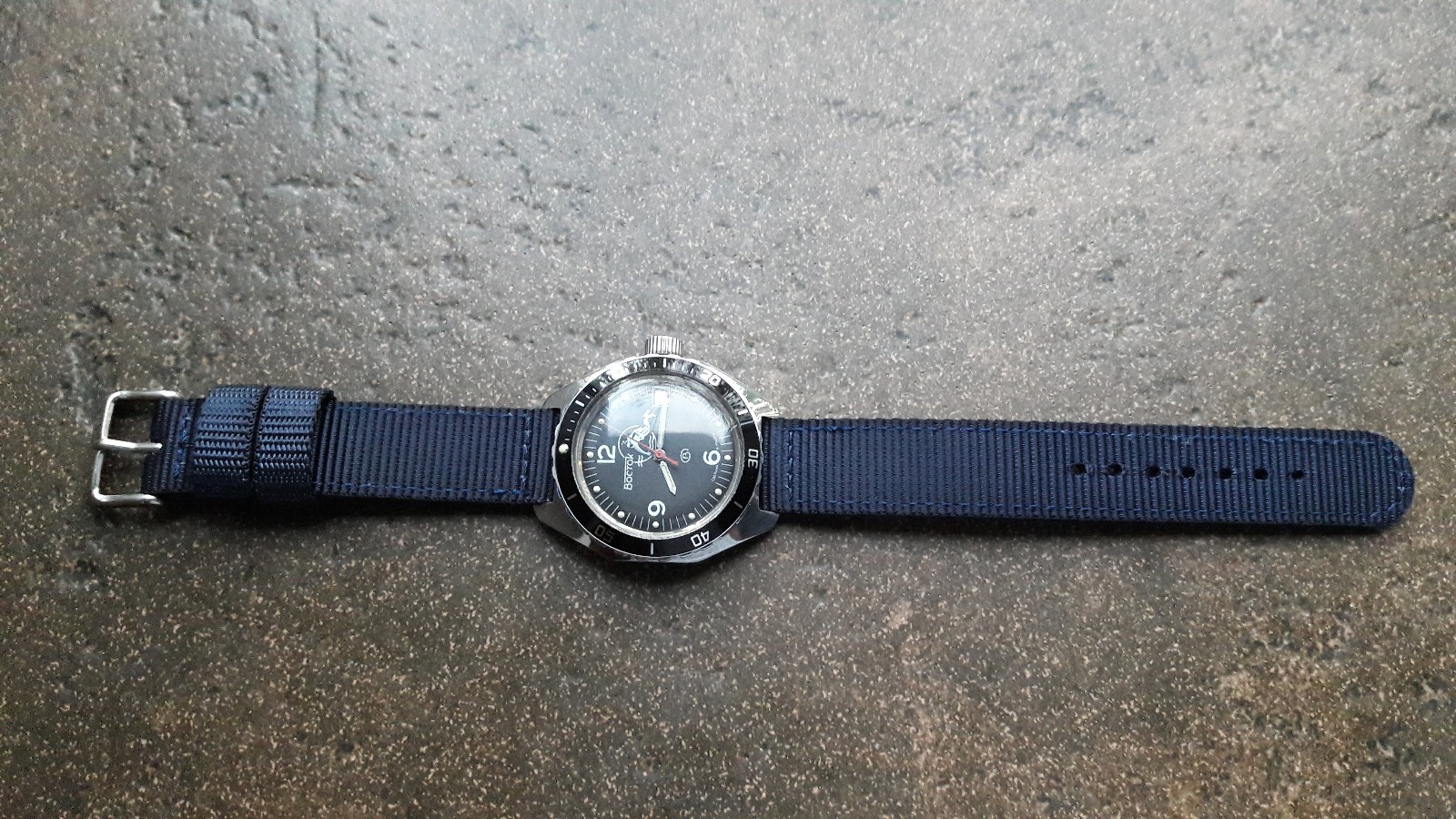 During the course of my hunt, I happened upon this eBay listing from seller anikvm7. It's purportedly a 1980-1989 Scuba Dude dial, which would put in squarely in the right time period before The Fall when these dials started coming out. The listings doesn't specify it, but this is the Vostok Amphibia 670 case, which was certainly in production during the 70s and 80s. The hands look right and so does the case back. "Jackpot," I thought. I was convinced that I had found a fairly early Scuba Dude dial. However one detail cascaded into discovered this thing was an absolute fraken and it's one little detail that all prospective and budding USSR watch collectors need to reflexively take note of.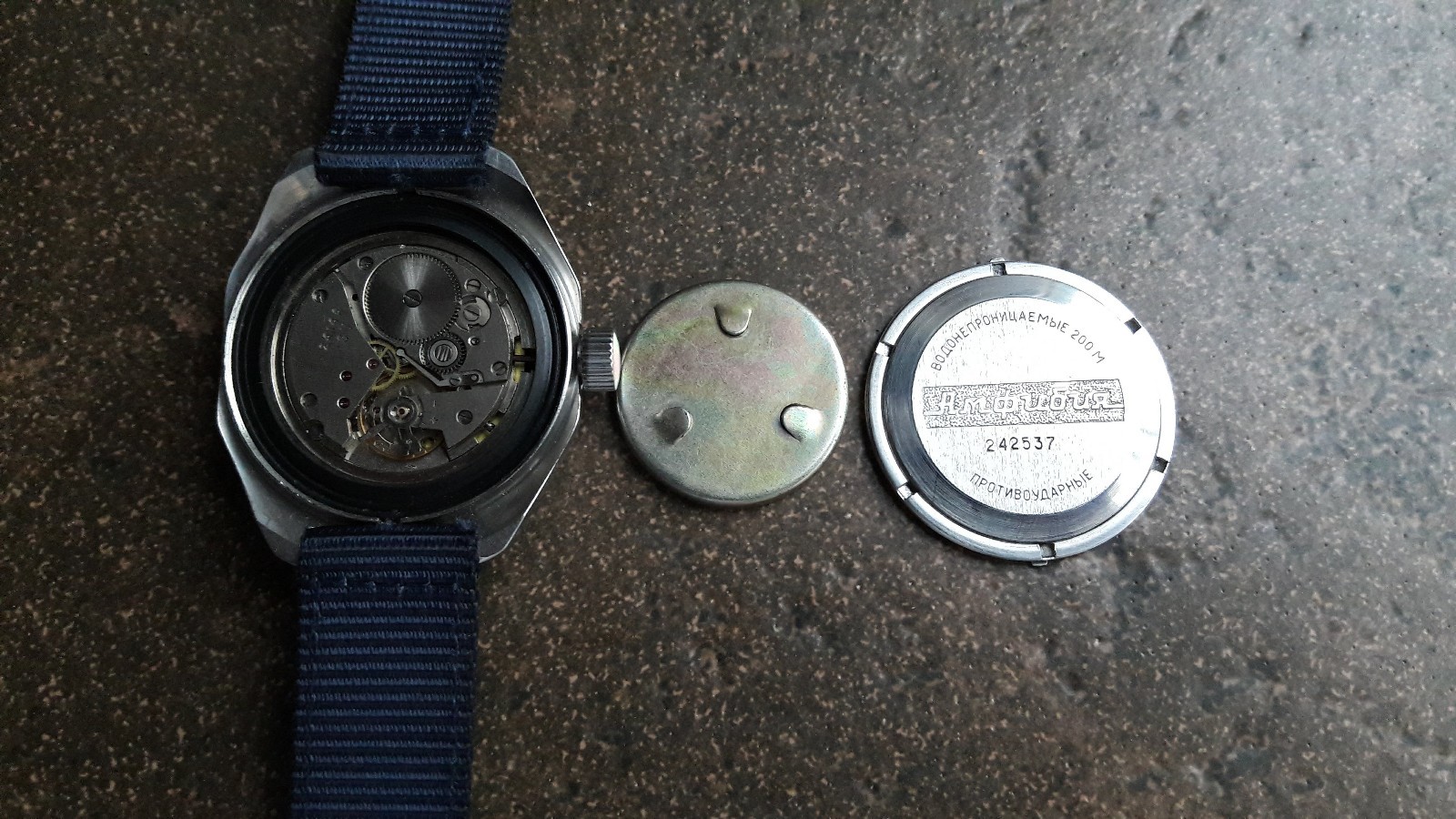 Remember the whole Pre-Soviet Union and Post-Soviet Union detail I mentioned earlier? Pre-Soviet Union Dials have "CAERAHO B CCCP" on the dials, which translates to "Made in USSR." Whereas Post-Soviet Union pieces have "CAERAHO B POCCNN," which translates to "Made in Russia." This Scuba Dude dial that is alleging to be from 1980-1989 has CAERAHO B POCCNN on the dial, meaning that it's from after the fall of the Soviet Union, placing it anywhere after 1992. The other damning detail here is the movement. The movement being pictured is the 2414A, which would be accurate for a piece in this time period. However, the movement is also pictured with a metal plate that features three prongs. This antimagnetic shielding that certain Vostoks included as a preventative measure to ensure the movement didn't become magnetized and lose accuracy. Vostoks that had those plate indicated as such on the dial as well as the case back (the cyryllic for "antimagnetic" would have appeared as "антимагнитныE").
So we can reasonably conclude that the dial and the case back aren't original to this 670 case. In fact, I was able to find the modern production dial they used as a replacement on Meranom. Just crazy to see how one little detail can help steer you clear of an inauthentic listing. Whether or not the listing is meant to be overtly deceptive isn't clear. However, it's a piece to be avoided. Also please note the earliest generation Scuba Dude dials that I've ever seen have been in the oddly forgotten 960 Case (aka the Neptune case). If anyone has seen them in another cases during the 80s please give me a holler.
Highlights: Case, hands, and movement are accurate for time period – could be worth buying for parts or using to tinker with as a project piece
Problem Areas: The watch is franken with a caseback and dial that don't match the advertised period of manufacturing
Seller: anikvm7 (Photo Credits)
Buy It Now price: $50.00 USD
Click here and be sure to cycle through the listing's photos* – it helps to see a lot of these red flags on eBay itself in order for spotting them to become second nature. Plus the person is straight up wearing Mickey Mouse gloves in the photos (credit to @ealeathergoods for catching that).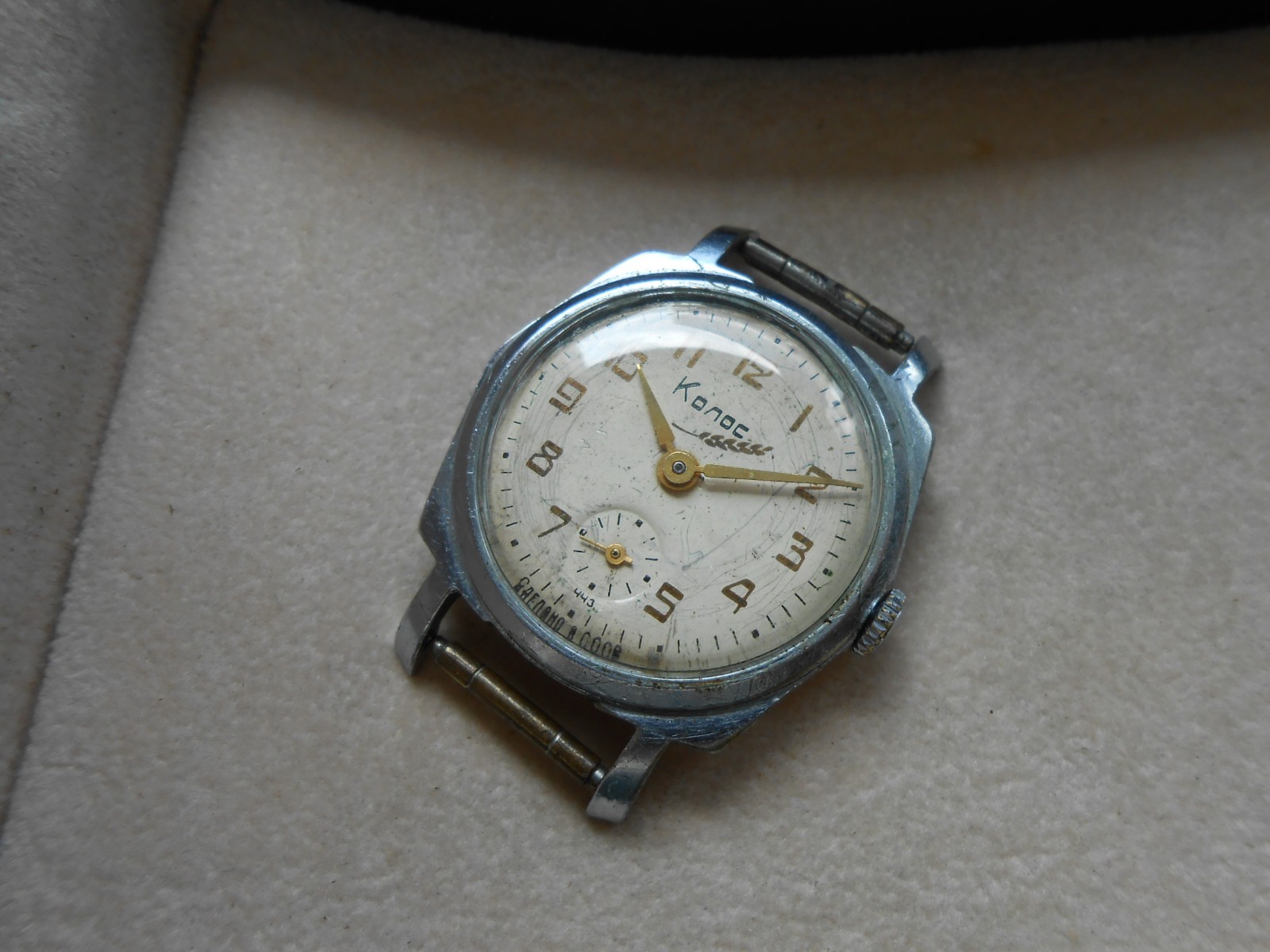 The Chistopol Kolos 2602 (eBay ID: 132701199544)
Take note, dear reader, not all Vostoks are rough and tough military-esque pieces. The reality of the Vostok Watch Factory (Chistopol) is that they created many different and very cool dials/brands before "Vostok" became the Chistopol Watch Factory's official name in 1969. Check out the piece I wrote on the History of the Vostok Watch Factory to really get a sense of the craziness that was Vostok's beginnings.
During World War 2, the Second Moscow Watch Factory was forced to flee the city when the Germans invaded. They up-sticks as the city was being attacked and eventually resettled (with all their equipment and personnel) in a small town called Chistopol. Chistopol had strategic importance for supplying the Red Army since it was on the Kama river. As such, the Second Moscow Watch Factory and it's workers began making munitions equipment while also focusing slightly on watches. When the war was over the Factory was essentially abandoned by the original Second Moscow Watch Factory workers who returned to the city. But they left behind a small town full of locals who they trained to make watches on these machines (the machines were also left behind since they were outdated at this point with the new inclusion of LIP machinery from France). So the town of Chistopol seized the opportunity and just keep making watches.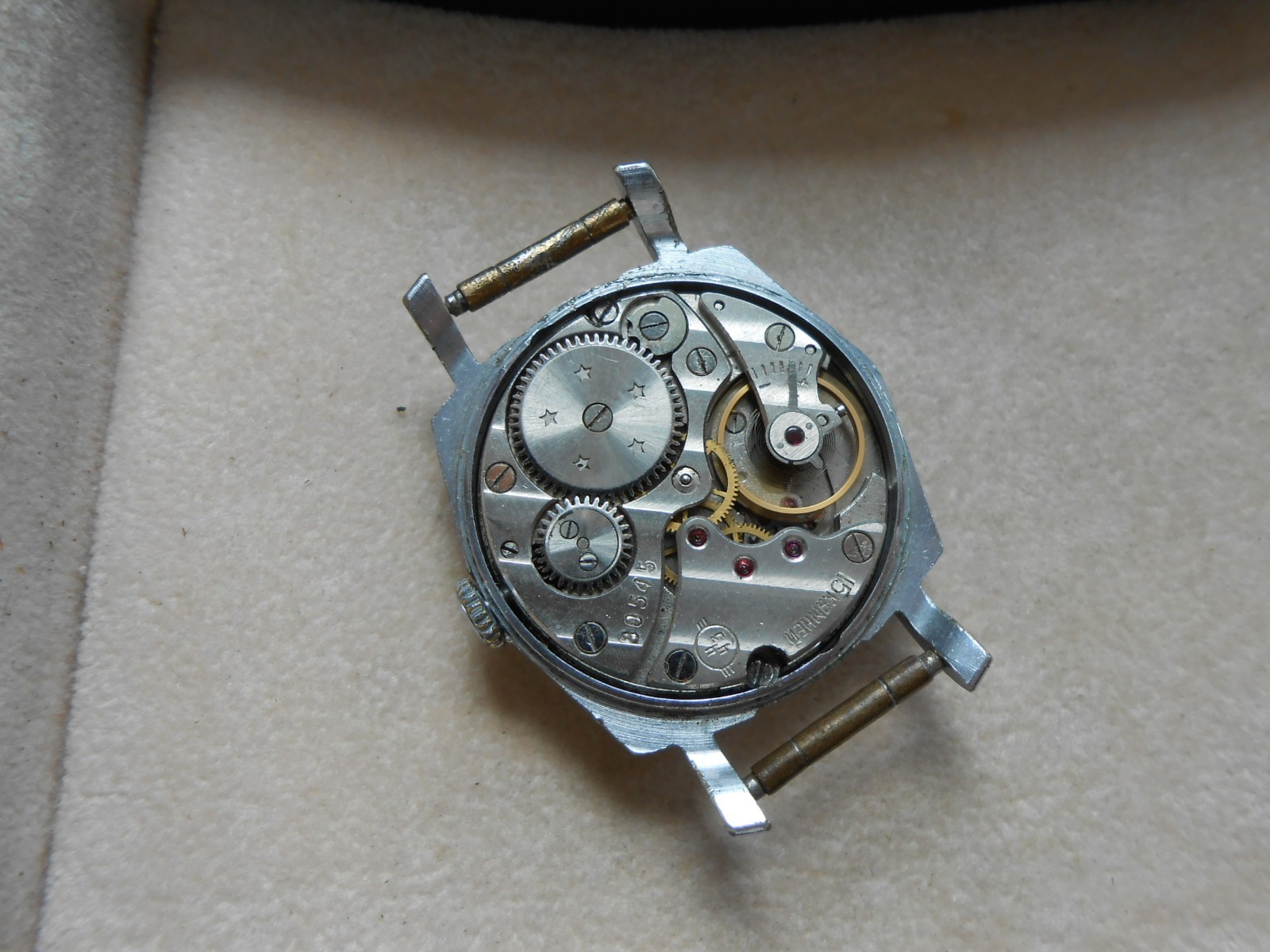 Some of the pieces they made in the period between the end of WW2 and the start of Vostok included Kama (named after the river they bordered), Mir, Sputnik, and the Kolos, which is the focus of this segment. This example here seems to be from the early 1960s and should feature the 2602 caliber small seconds movement, which it does. I love these older USSR movements because they feature some really fun decoration. This one has very wide Côtes de Genève that span the entire movement and the iconic Soviet stars on the mainspring barrel. You'll also see the "443" stamp for the Chistopol Watch Factory on the movement (in the little circle with the lines) and the dial.
Cutting to the point, this thing is incredibly real. Hands are right; dial is right; case is right; crown is right. Hell, even the spring bars look freaking original to what I've seen in these pieces. The age and patina is appropriate from what I'd expect as well. The listing says its from the 1950s, however I've only noted Kolos dials like this occurring in the 60s (the crop-like graphic). Please note that I doubt it's a deceptive discrepancy and more likely an oversight or some second hand misinformation.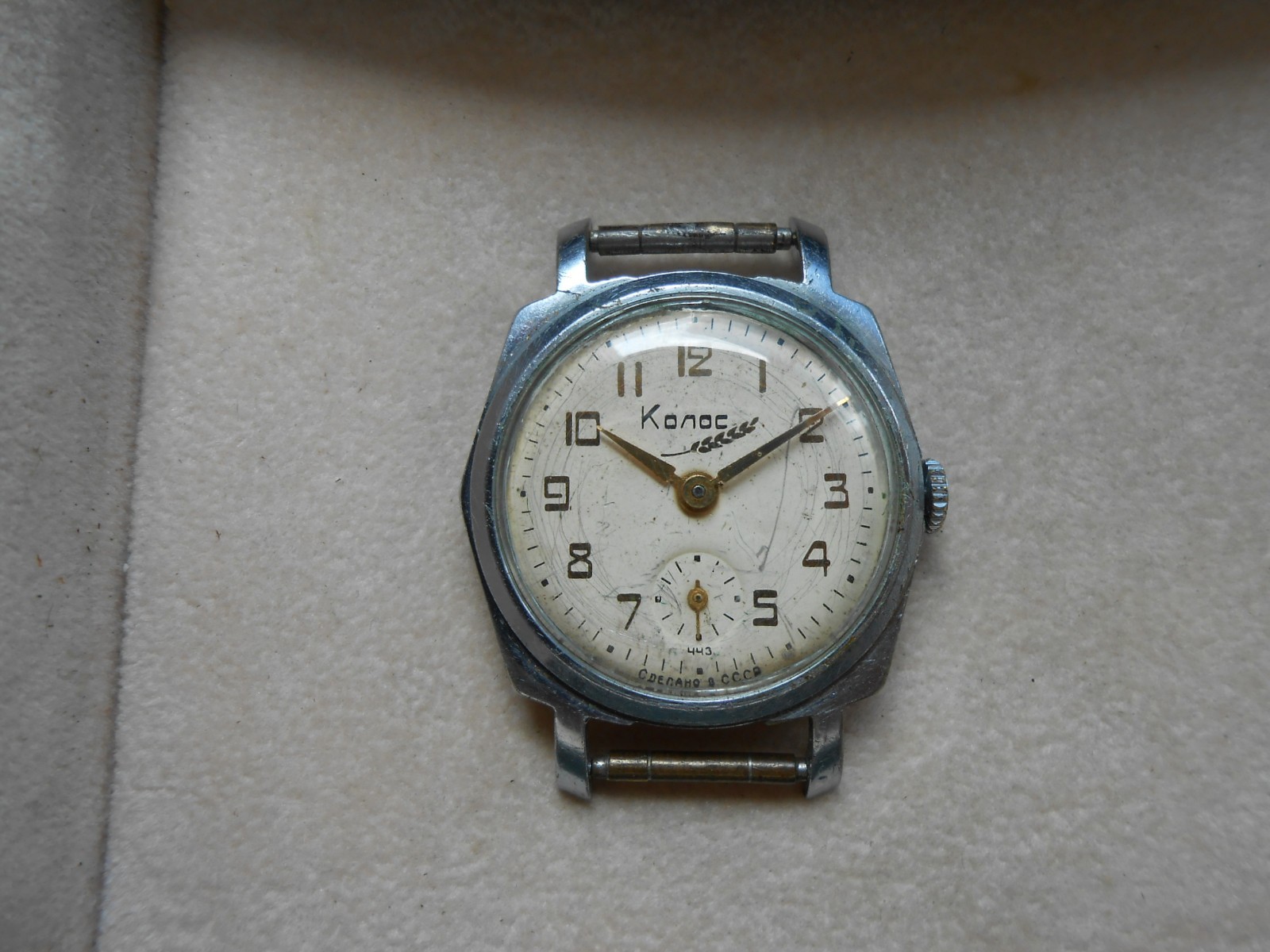 At $19.00 USD I suspect the price is so low because these lesser known Chistopol pieces aren't as sought after as their more popular Vostok progeny. In my opinion it's a shame that these brands don't get more attention because they represent both an incredible time in Chistopol's history as well as Russian horology.
Also as a parting note, the name of the dial is Kolos (or колос) which I think is supposed to be a manner of saying Corn (like an ear of corn??), which would explain the crop-like looking plant on the dial. But otherwise, the Kolos name has always stumped me and if there are any watch collectors or native Russian speakers out there who have any insight I'm all ears… sorry couldn't resist.
Highlights: From the listing everything looks accurate for a 1960s Chistopol Kolos, which offers incredible history and affordability.
Problem Areas: Soviet Pieces this old always present a risk for sustainability and durability. So I'd recommend not air-drumming while wearing this piece. Also, the seller notes that though it's keeping good time, it may need servicing.
Seller: sputnique59 (Photo Credits)
Buy It Now price: $19.00 USD
Check out this piece's listing here for more photos* – truly something special.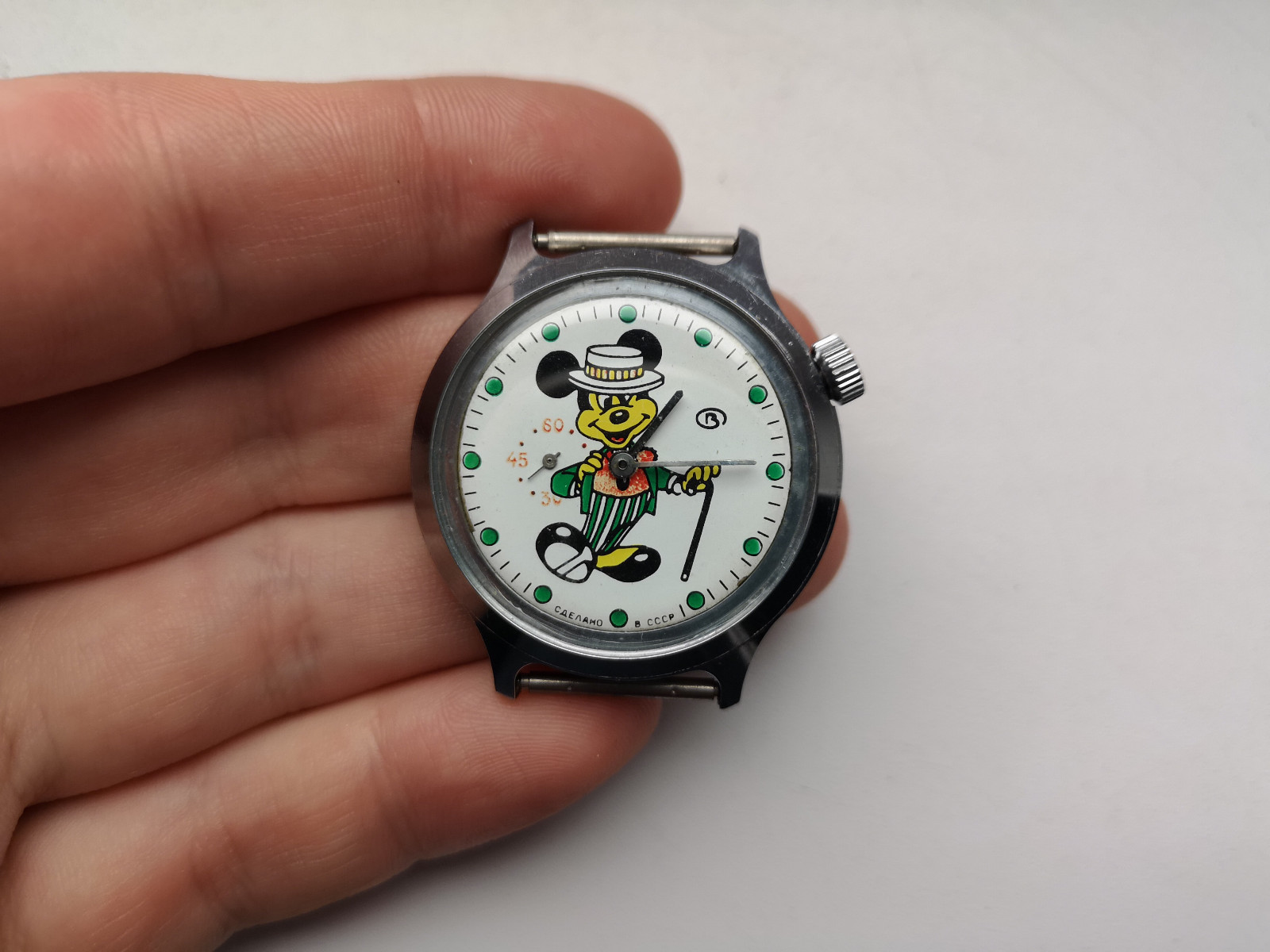 Mickey Mouse Vostok 2403 (eBay ID: 401543754492)
You're not going crazy. That's goddam Mickey Mouse on a USSR Vostok Amphibia from the late 80s. These are very real and quite hilarious.
So for a long time in the USSR Mickey Mouse (plus, you know, a lot of other non-Soviet based iconography and imagery) was banned as Western Propaganda. But then in the mid 1980s many Soviet Government officials (including Gorbachev) began to realize that things like increased government transparency and open communication with outside nations wasn't a bad thing. So a loose movement called Glasnost was practiced and adhered to as a means for judicial reform to embody this more open and transparent ideology (the framework for this type of thought has existed for many years in Russia, but during the 80s it was focused and internally pointed at USSR political thought).
This coincidided around the same time as Mickey Mouse's birthday in 1988. So for some reason Gorbechev and his government officials decided that it would be a great time to put Glasnost into further practice by popularizing and bringing back Disney Iconography to the people of the USSR. Two watch brands were chosen (volunteered? Hard to say) to do their part in this endeavor. Pobeda (a very popular brand with Soviet folk of all ages and status) created a Donald Duck watch and Vostok created this Mickey Mouse watch.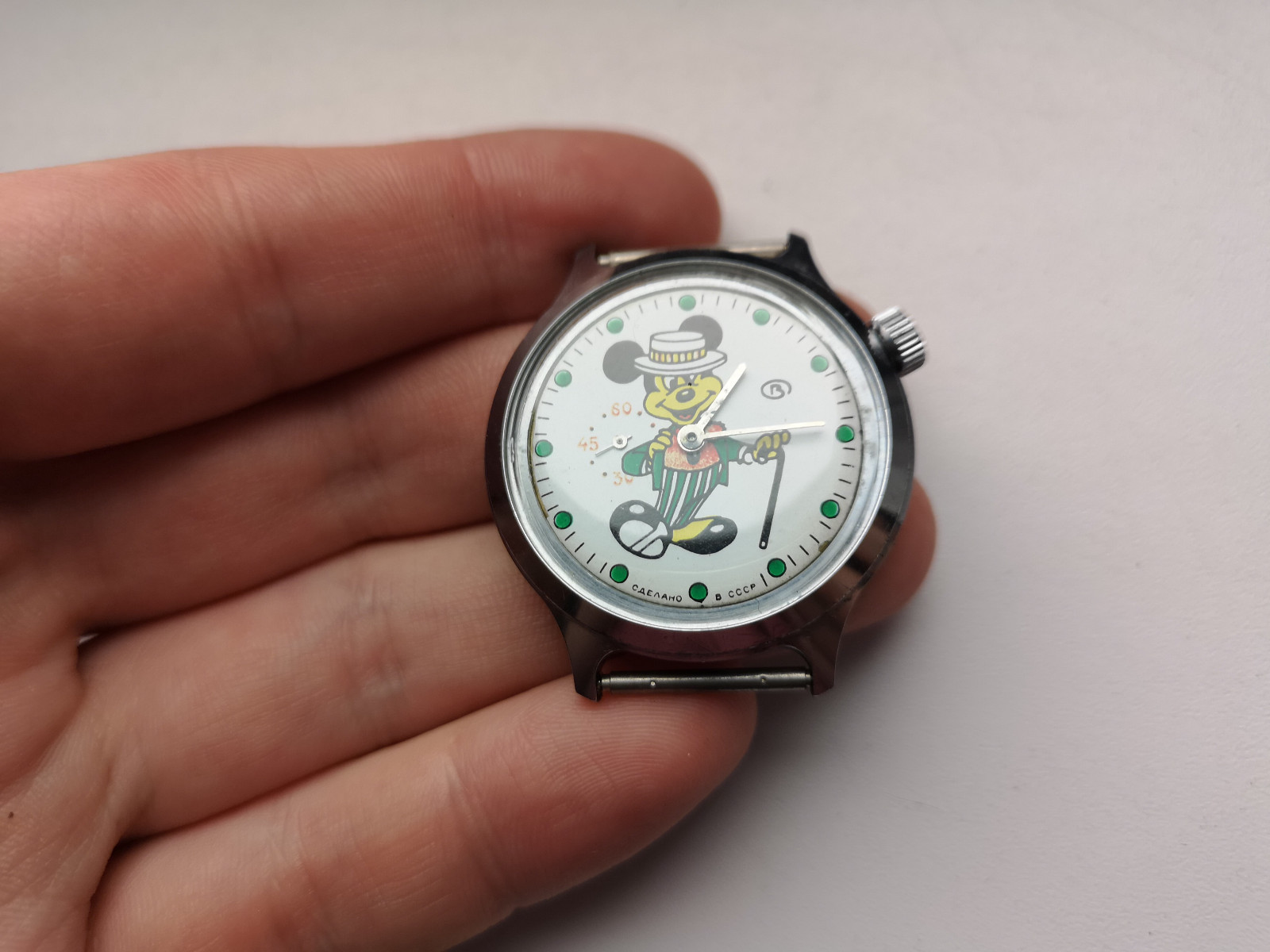 Here we see Mickey inexplicably rocking a barber shop quartet outfit. It's possible that it's a meta homage to the Disney Main Street USA barber shop quarter called The Dapper Dans who have been performing since 1959. It's also possible that the Barber Shop Mickey was a popular version of the Mouse back then and it's honestly just lost on me – I'm always open to hearing from folk who may have answers.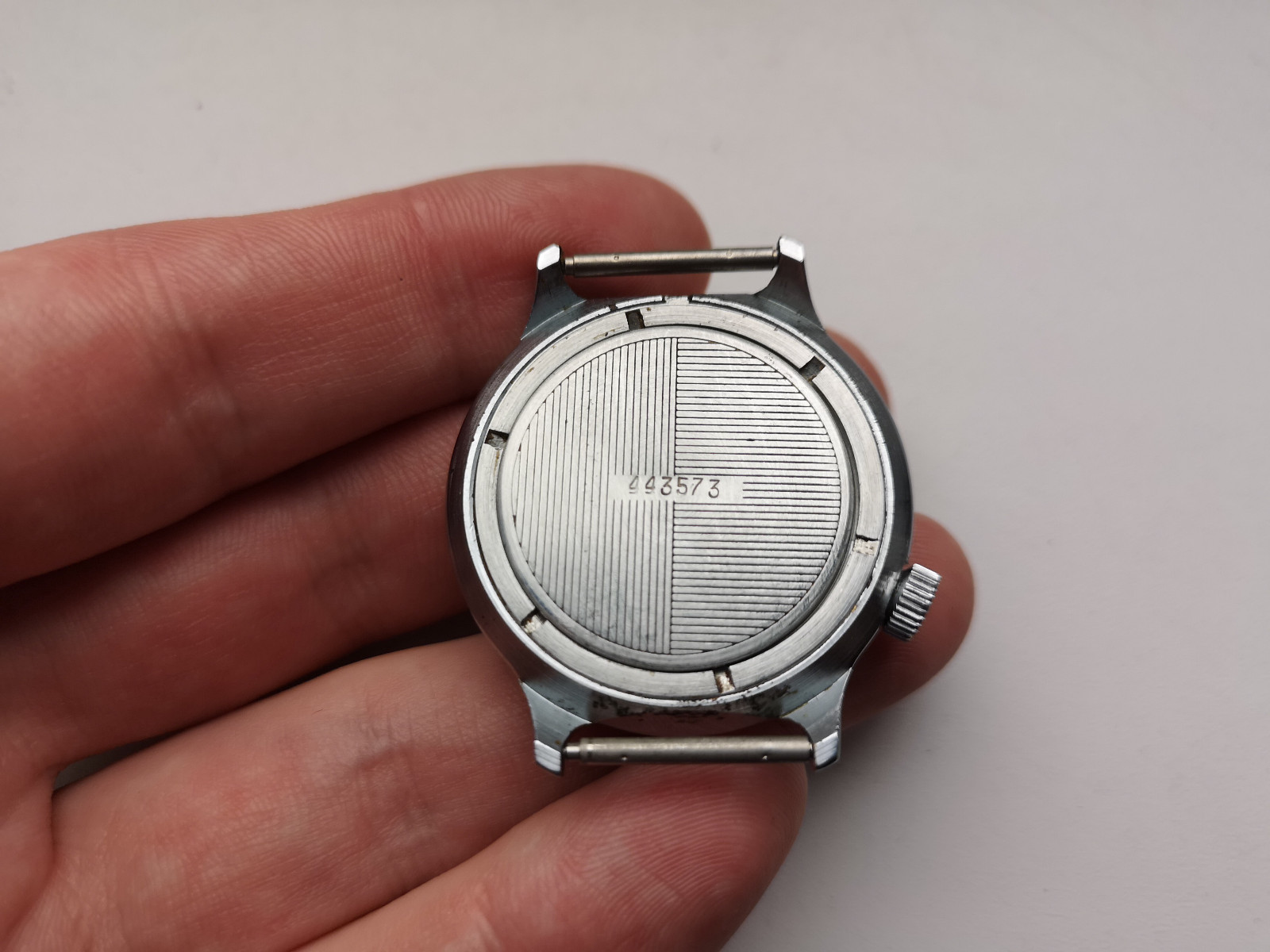 The watch itself in this listing is fine – hands are original, dial looks good, and the crown looks right. The crystal is most likely unoriginal. But that isn't a big deal since it's super common practice for these watch techs to do when the crystal is beaten to piss. The case back's originality to the piece can go either way. I've seen this style used quite often on other 2403 caliber Vostoks, but then I've seen some 2403s that don't use it. Honestly, with it being 50/50, I'm willing to overlook the possibility that the case back is replaced simply because this watch is awesome and the price is great at $50.70 USD.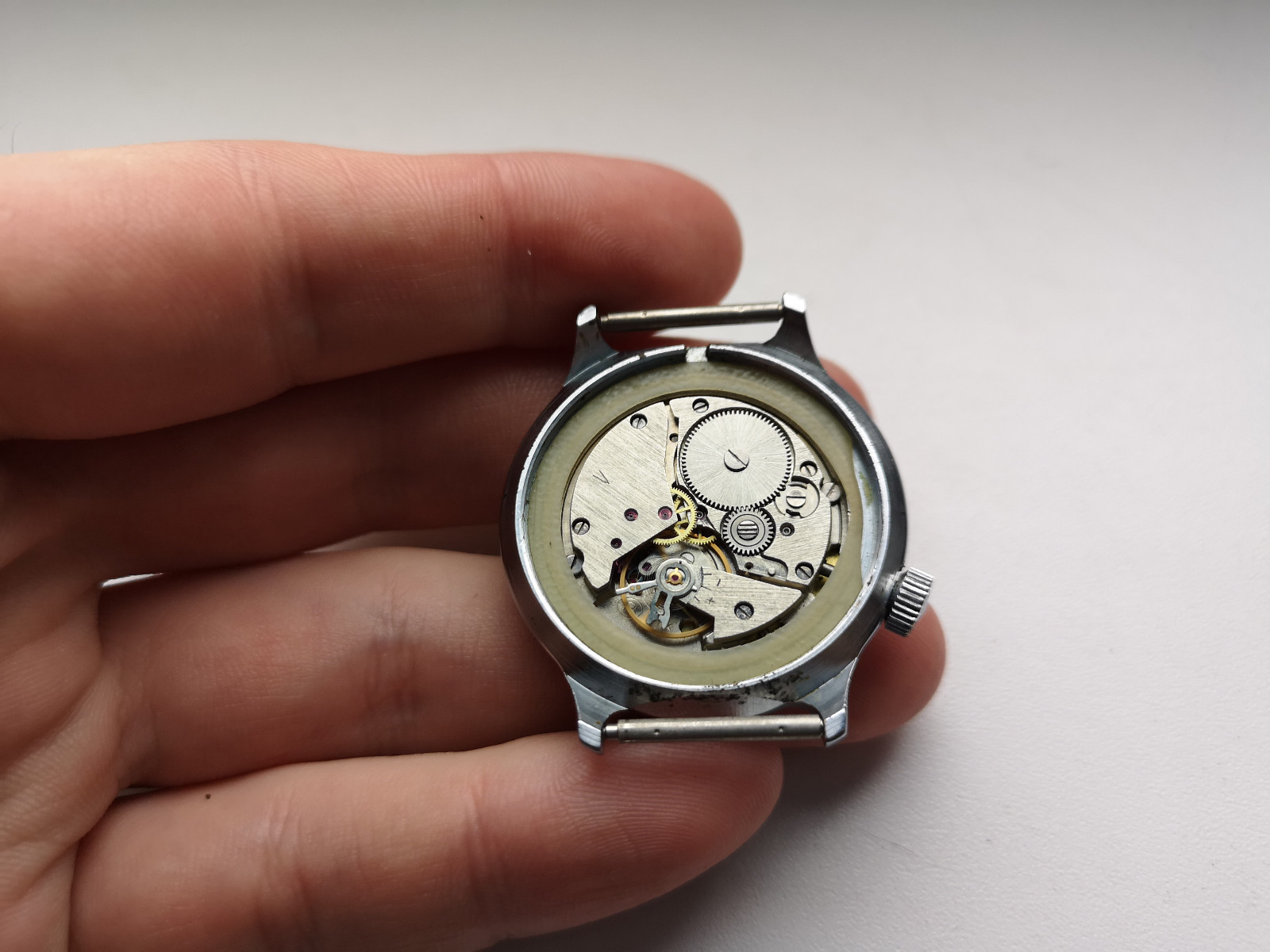 The movement is the Vostok 2403 – one of the lesser known and noted Chistopol Calibers. It's seems to just be a small seconds version of the 2409 with the sub dial at 9 o'clock and the crown and stem at 2 o'clock. For this piece everything in terms of the movement looks right. Oh, and I'm fairly certain they did this without Disney's permission – but who knows?
Highlights: Basically everything (except the crystal and possibly the caseback) is original. The actual condition of the dial is great and the movement looks clean.
Problem Areas: Nothing noteworty to point out here except the fact that any vintage watch purchase presents an inherent risk that may not be visible from the listing alone.
Seller: banqq2 (Photo Credits)
Buy It Now price: $50.70 USD
Do check out this piece in more detail – it's really a lot of fun.
—
As noted above please be aware that all vintage watch purchases carry an inherent risk. That's why I always remind folks to take advantage of eBay/Paypal's return policy if need be. What I've created above is three assessments based on the best use of my knowledge and experience in relation to the available elements from each eBay listing. If you have any questions or comments please totally let me know in the comment section below. Hope everyone enjoyed this week's segment! Also a reminder that links with a star (*) are eBay affiliate links and using them for an eBay purchase can result in a commission to us at no extra cost to you and regardless of which product you buy.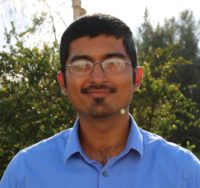 Kaz has been collecting watches since 2015, but he's been fascinated by product design, the Collector's psychology, and brand marketing his whole life. While sharing the same strong fondness for all things horologically-affordable as Mike (his TBWS partner in crime), Kaz's collection niche is also focused on vintage Soviet watches as well as watches that feature a unique, but well-designed quirk or visual hook.